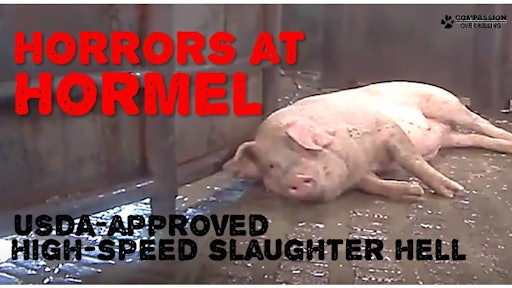 One of Hormel's pork processors said Friday that it has taken additional corrective measures in response to Hormel's concerns over actions depicted on an undercover video shot by an animal welfare group at an Austin, Minn., slaughterhouse, according to TwinCities.com.
An employee shown paddling pigs has been disqualified from working in the livestock area of the plant, and two other employees were also disciplined for horseplay for throwing what appeared to be a blood clot or blood-soaked paper towel, said Nate Jansen, vice president of human resources and quality services at Quality Pork Processors. He declined to say what that discipline involved.
QPP also implemented additional corrective measures that Hormel demanded in a letter Thursday, Jansen said. They include retraining of all employees on proper animal handling and conduct, stepped-up video monitoring and surprise audits, stationing humane handling officers to observe all animal handling, and a confidential hotline for employees to report any actions that violate animal care standards.
"We've been working very closely with them to make sure we're meeting the high standards that they have for us," Jansen said in an interview.
Hormel — the maker of Spam, Cure 81 ham, Black Label bacon and other products — said Friday that it was "extremely disappointed and concerned" about the "aggressive animal handling and employee insensitivity" shown on the video shot by an investigator for Compassion Over Killing last month.
To read more, click HERE.