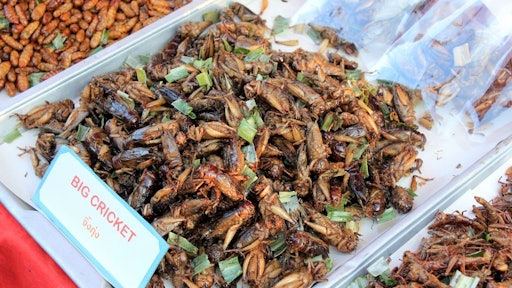 European food safety officials are paying more attention to risks associated with insects used as protein, according to Food Safety News.
Earlier this year, Belgium's Federal Agency for Safety of the Food Chain stated that insects for human consumption "appear to offer great potential" as an alternative protein source. The agency's scientific committee went so far as to acknowledge that breeding and marketing insects is already being tolerated in some parts of the European Union without any formal regulations.
Now the European Food Safety Authority (EFSA) is getting involved by studying the potential risks from production, processing, and consumption of insect protein.
EFSA states that it has addressed this question with a risk profile that identifies the potential biological and chemical hazards, as well as allergenicity and environmental hazards associated with the use of farmed insects as food and feed.
The group's scientific opinion, published Oct. 8, 2015, also compares these potential hazards with those associated with mainstream sources of animal protein. The possible presence of biological and chemical hazards in food and feed products derived from insects would depend on the production methods, what the insects are fed on (substrate), the lifecycle stage at which the insects are harvested, the insect species, as well as the methods used for further processing.
To read more, click HERE.