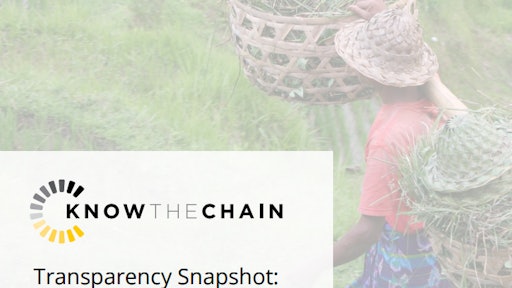 A report on forced labor in the supply chain gives insight into the depth of the problem, what major companies are doing about and what actions companies can take to prevent it. The report, "Know the Chain, Transparency Snapshot: A Pilot Benchmark Report," supported by a United Kingdom-based organization called the Business and Human Rights Centre, includes seven global food companies: Nestle SA, Unilever plc, Mondelez International Inc., Danone, Associated British Foods plc, General Mills Inc. and Hershey Co.
As reports of human trafficking and forced labor abuses in corporate supply chains continue to increase, many companies are adopting policies and programs to mitigate these risks. Yet little is known about which companies are leading the way in human rights policy and practice, and where more efforts are needed.
The report highlights initial findings from a methodology that assessed company transparency and disclosure statements on forced labor in supply chains.
Twenty companies were selected across three sectors: apparel and footwear, food and beverage, and information and communication technology, for this initial evaluation.
The report notes that 17 out of 20 companies have a formal policy that acknowledges the potential for human trafficking and forced labor in their supply chains.
Eight of the companies include a requirement in their standards that forbids suppliers from charging fees to workers during recruitment processes.
Five of the companies disclose how they have made their policies and standards available to vulnerable parties in their supply chains, especially local workers. In many cases, companies conduct specific training and information sessions.
To read more, click here.