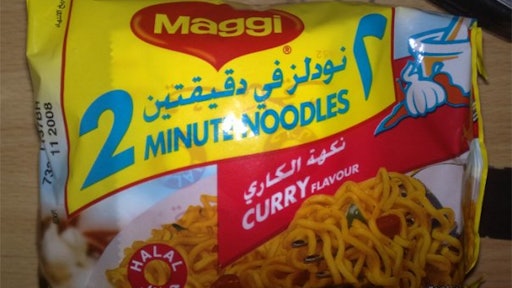 Nestle said Thursday it is challenging a ban imposed by India on its hugely popular Maggi instant noodles brand after tests showed they contained excessive levels of lead, according to the Associated Press.
Nestle said it had approached the high court in the western city of Mumbai seeking a judicial review of a June 5 order from the government's food safety regulator banning the product.
"Nestle India Limited has today approached the Honorable Bombay High Court raising issues of interpretation of the Food Safety and Standards Act 2011," said a statement posted on the company's website.
It said it was also challenging a separate order from the state government of Maharashtra, of which Mumbai is the capital.
Nestle, which says the noodles are safe to eat, had already announced it was pulling the product from sale when the Food Safety and Standards Authority of India (FSSAI) imposed a national ban following similar moves by some state governments.
On Thursday, the company said it would keep the product off store shelves despite the court action.
The FSSAI said last week it was banning the company from producing and selling the noodles after tests by some states had found lead levels above statutory limits.
To read more, click HERE.