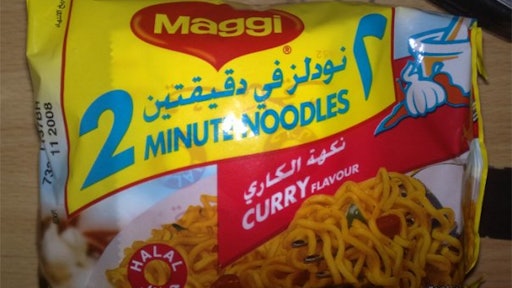 Nestle SA will pull its Maggi instant noodles from stores across in India, withdrawing one of the country's most popular snacks after weeks of damaging headlines triggered by regulators' reports that some packs contained excess lead, according to Reuters.
In what has become India's most significant packaged foods scare for nearly a decade, Nestle reiterated on Friday that its noodles were safe. But after coming under fire for what domestic media said was a failure to react swiftly and decisively, the group said it would pull the product regardless, more than two weeks after food inspectors first reported their findings.
At least six states, several major retailers and even the Indian army have banned Maggi noodles. On Thursday, Tamil Nadu became the first state to ban a handful of brands of instant noodles, including Nestle's.
"Unfortunately, recent developments and unfounded concerns about the product have led to an environment of confusion for the consumer, to such an extent that we have decided to withdraw the product off the shelves, despite the product being safe," the Switzerland-based firm said in a brief statement.
Sales of Maggi in India represent just 0.005 percent of Nestle's global revenue of almost 92 billion Swiss francs ($98.6 billion). Maggi noodles account for roughly a fifth of Nestle's sales in India, which also include dairy products, chocolate and baby food.
But the importance of containing damage to the brand has not been lost on Nestle, whose group chief executive Paul Bulcke will speak later on Friday in New Delhi to seek to draw a line under the scare.
Maggi two-minute noodles, which sell at roughly a dozen rupees ($0.20) per single-serving packet, are a hugely popular snack in India. The food is frequently served to children and eaten at roadside shacks and "Maggi points" across the country.
To read more, click HERE.