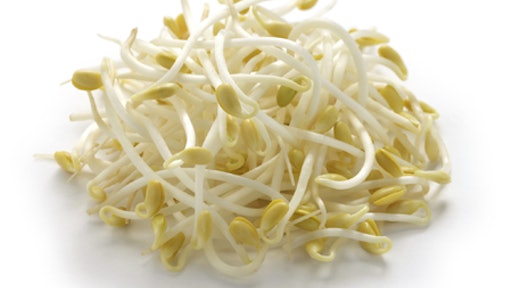 The Salmonella Enteritidis outbreak linked to Wonton Foods bean sprouts has sickened at least 111 people in 12 states, according to Food Poisoning Bulletin. Twenty-six percent of case patients have been hospitalized; there are no deaths. No recall was issued for this product. This outbreak is still ongoing.
Investigations by state, local, and federal public health officials indicate that bean sprouts produced by Wonton Foods are the likely source of this outbreak. Officials interviewed 73 ill persons, and found that 48, or 66 percent of them ate bean sprouts or menu items containing bean sprouts the week before they got sick. Many of the patients ate at restaurants that were supplied with bean sprouts by Wonton Foods.
These mung bean sprouts have a shelf life of 12 days, so they are most likely not available for purchase in grocery stores and restaurants. Wonton Foods destroyed any remaining product on Nov. 21, 2014 and cleaned and sanitized their facility. They resumed shipment of sprouts on Nov. 29, 2014.
The case count by state is: Connecticut (8), Maine (4), Maryland (5), Massachusetts (35), Montana (1), New Hampshire (6), New York (21), Ohio (3), Pennsylvania (17), Rhode Island (7), Vermont (3), and Virginia (1). Illness onsets dates range from Sept. 30, 2014 to Nov. 22, 2014. It takes an average of two to four weeks between when a person gets sick and when the illness is reported.
Salmonella outbreaks have a multiplier of 30.3. That means that for every case reported to officials, more than 30 cases are not reported. As many as 3363 people could be sickened in this outbreak.
To read more, click HERE.