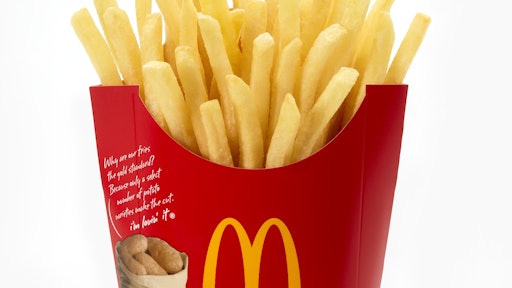 McDonald's said an emergency airlift of French fries to Japan has eased the nationwide shortage that forced the chain to ration them at more than 3,000 restaurants across the country, according to The Guardian, based in London, U.K.
Beginning today, Jan. 5, medium and large-sized fries will be back on the menu, almost three weeks after the fast-food giant restricted customers to small portions due to import delays.
Labor disputes on the U.S. West Coast are curbing exports of fries, leaving Japanese restaurants scrambling to secure fresh supplies.
The Japanese arm of McDonald's said it got around the problem by airlifting in more fries.
"We will continue to monitor the situation carefully to do our best to ensure stable supply of potato products," it said in a statement.
Earlier this month, the company said it had airlifted more than 1,000 tons of potatoes and shipped 1,600 tons by sea from the U.S. east coast, but it warned that would not be enough to ensure a steady supply.
Editor's Insight: According to news reports, McDonald's customers in Japan were restricted to small portions of French fries for three weeks. It would be interesting to know how that has impacted McDonald's overall sales in Japan. The long-term impact will be significant as customers who were used to having large fries explored alternative destinations.
This situation demonstrates how easily "external" issues such as labor disputes can affect the supply chain. Exporters and importers need to be aware of all factors that affect supply and demand. This is more critical today than ever as supply and demand have become increasingly globalized. 01-05-15 By Elliot Maras