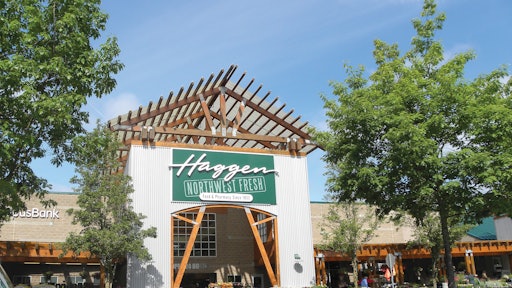 Pacific Northwest grocery chain Haggen said on Friday, December 19, that it has entered into an agreement to acquire 146 stores as part of the divestment process brought about by the Federal Trade Commission's (FTC) review of the Albertson's LLC and Safeway merger. With this acquisition, which remains subject to FTC approval, Haggen will expand from 18 stores with 16 pharmacies to 164 stores with 106 pharmacies; from 2,000 employees to more than 10,000 employees; and from a Pacific Northwest company with locations in Oregon and Washington to a major regional grocery chain with locations in Washington, Oregon, California, Nevada and Arizona.
"With this pivotal acquisition, we will have the opportunity to introduce many more customers to the Haggen experience. Our Pacific Northwest grocery store chain has been committed to local sourcing, investing in the communities we serve, and providing genuine service and homemade quality since it was founded in 1933," said John Caple, chairman of the Haggen board of directors and partner at Comvest Partners, a private investment firm that owns the majority of shares of Haggen. "We will continue our focus on sourcing and investing locally even with this exciting expansion."
The company will be led by CEOs John Clougher and Bill Shaner. Clougher, CEO, Pacific Northwest, will have primary responsibility for the northern division of Washington and Oregon. Shaner, CEO, Pacific Southwest, will have primary responsibility for the southern division of California, Nevada and Arizona. The two will work together to steward the company's commitment to its employees, customers, business partners and stakeholders.
After the close of the transaction in early 2015, Haggen will convert all of the acquired Albertsons and Safeway stores to the Haggen banner in phases during the first half of 2015. All Albertson's LLC and Safeway store employees will have the opportunity to become employees of Haggen as their individual stores are transitioned to the Haggen banner. Haggen plans to retain the current store management teams.
"We warmly welcome these new employees and stores into the Haggen family. The stores are well run and very successful, thanks to the dedicated store teams," said John Clougher, Haggen CEO, Pacific Northwest. "We want to retain these existing teams while allowing our growing company to build on their past successes. We plan to adopt the best practices of our new stores to offer a superior shopping experience for our valued customers in all of our stores."
"We committed to this acquisition because we knew we had the experience, talent and drive to get it done," added Caple. "The strength of our management and store support teams, combined with the talent of the store teams at each of the new store locations, will enable Haggen to be a successful West Coast grocer."