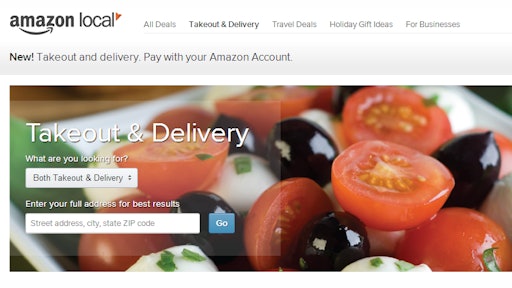 Amazon quietly launched online takeout and delivery in Seattle, Wash., via Amazon Local, according to theverge.com, a technology and lifestyle news website. The service only appears to be live in Amazon's hometown of Seattle for now, but you can be certain that the company has much larger ambitions than food delivery in a city with 650,000 residents.
The new service is live now on the Amazon Local website as well as its Android and iOS apps. Anyone who's used a service like Seamless will be familiar with what's on offer here: once you put in your address, you can peruse a list of restaurants that deliver or offer takeout. Browse the menu, choose what you want on your pizza, and then pay with your credit card saved to your Amazon account.
Amazon Local started as a Groupon-like service, but it has since expanded into a suite of offerings. In addition to food delivery, Amazon has a new grocery delivery service, and there are rumors that it is working on a product to help connect customers with local businesses, such as plumbers and baby sitters. Amazon has yet to officially announce the food ordering service.