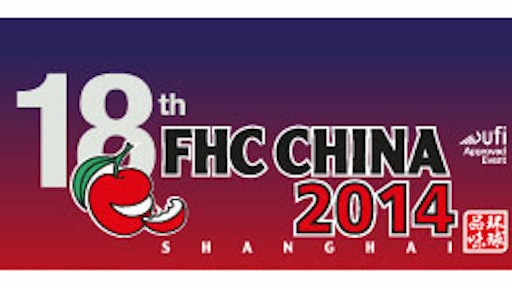 Eleven Welsh companies recently promoted produce at the Food and Hotel China (FHC) Exhibition in Shanghai. The Food and Drink Wales pavilion at Shanghai is supported by the Welsh Government.
Deputy Minister for Farming and Food Rebecca Evans said: "Wales is undoubtedly ahead of the game when it comes to the excellent quality of our food and drink. The Welsh government has prioritized this as one of our key development sectors, and we aim to increase annual sales by 30 percent by the year 2020 to GBP 7 billion.
"Our export market to countries including China is anticipated to continue to grow significantly, driven by factors such as increasing disposable income and a growing taste for international food. It is crucial therefore that the Welsh government supports our Welsh food and drink companies by enabling them to exhibit at Food and Hotel China 2014 in order to capitalize on the growing trading opportunities offered in the market."
Held at the Shanghai New International Expo Centre, FHC is a leading international food and drink trade event in China.
One of the companies that attended is already well on its way to creating a strong presence in China. The Cardiff-based Good Carb Food Co. produces granola breakfast cereals and granola based snacks, and as managing director Nigel Bryan explained, this was not their first visit to China, "We went to Shanghai in 2011 for the Food and Hotel China event, as part of a delegation of U.K. and Welsh companies. After that first trip we appointed a distributor in Shanghai and we have never looked back. With support from the Welsh government, we have attended the event every year since then and we now also sell in the south of China through another company."
The company's main brand is Lizi's, a granola that comes in various flavors. Its latest product is called "On the Go," which is a portion of original granola in a self-contained pouch that also doubles as a bowl and comes with a disposable spoon.
"It is clear that the Chinese are acquiring a taste for different types of Western food, and granola is one of them," Nigel added. "Our latest product contains lactose-free milk powder so all the buyer needs to do is add a few drops of water. We expect it to be very appealing to the Asian market."
Another Welsh company enjoying considerable Chinese success is Trioni Ltd., the Pembrokeshire dairy firm, as founder Laurence Harris explained, "The fact that our Daioni milk products are European and organic is hugely important, especially in light of recent milk powder scandals in China. The Chinese place British dairy systems in high regard, and recognize the type of quality and integrity with which Trioni approaches the export of our home grown produce."
"In our first year of exporting milk to China, we expanded six-fold, and by now we send out 132,000 liters, about six container loads of milk annually. Having been awarded Chinese organic certification recently we want to now to develop further links and increase our sales substantially. Having a physical presence at Food and Hotel China give us the opportunity for direct interaction and we'll hopefully return with new orders."
The 11 companies that participated at the event are:
Burts Biscuits and Cakes Ltd
Dailycer UK
Dansco Dairy / Dairy Partners
Gower Brewery Company Limited
The Good Carb Food Company (Lizi's)
Trioni Ltd
Abergavenny Fine Foods
Caws Cenarth Cheese Ltd
Purple Moose Brewery Ltd
Welsh Lady Preserves
Welsh Whisky