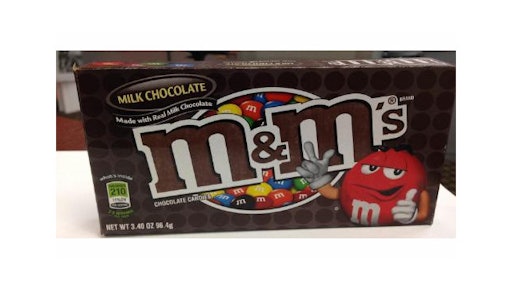 Following a recall by Mars Chocolate North America, The Stop & Shop Supermarket Co. LLC and Giant Food both announced they removed from sale M&M Brand Milk Chocolate Theater Box which may contain peanut butter, an allergen that is not listed on the ingredient label on the outside box. The inside packaging is correctly labeled with the peanut butter ingredient. This product is safe to consume for individuals who do not suffer from a peanut allergy.
The following product is included in this recall:
M&M's Brand Milk Chocolate Theater Box, 3.4 oz., UPC 40000294764 with the following lot numbers:
417DH4JP09;417EM4JP10; 417FM4JP09; 418AG4JP10; 418BG4JP10; 418CG4JP10; 418DM4JP09; 418EG4JP10; 419AM4JP09; 417EG4JP09; 417FG4JP09; 417FM4JP10; 418AM4JP09; 418BM4JP10; 418CM4JP10; 418DM4JP10; 418EM4JP09; 419AM4JP10; 417EG4JP10; 417FG4JP10; 418AG4JP09; 418AM4JP10; 418CG4JP09; 418DG4JP10; 418EG4JP09; 418EM4JP10; 419BM4JP10.

People who have an allergy or severe sensitivity to peanuts who do not check the inside package ingredient label may run the risk of serious or life-threatening allergic reaction if they consume this product. Symptoms of food allergies typically appear from within a few minutes to two hours after a person has eaten the food to which he or she is allergic. Allergic reactions can include: hives; flushed skin or rash; tingling or itchy sensation in the mouth; face, tongue, or lip swelling; vomiting and/or diarrhea; abdominal cramps; coughing or wheezing; dizziness and/or lightheadedness; swelling of the throat and vocal cords; difficulty breathing; loss of consciousness.
Consumers looking for additional information on the recall may call Mars Chocolate at 800-627-7852.