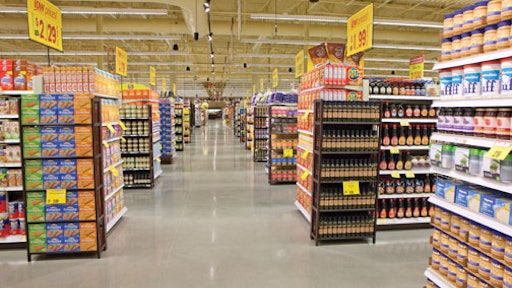 Willard Bishop released its annual rankings of grocery channels, showing that the friendly neighborhood supermarket is still losing the fight to supercenters, according to Media Post Marketing Daily. But within the traditional category, it reports strong growth among fresh-format stores, including Fresh Market and Whole Foods, as well as steady gains among limited-assortment chains, led by Aldi.
Traditional supermarkets continue to be America's favorite place to shop, with a 39.1 percent share of market, or $444.2 billion in sales in 2013. (That's a gain of 0.4 percent.) But sales in nontraditional channels, a broad umbrella that includes supercenters, clubs, drug and dollar stores, increased their total share to 39 percent, a 3.1 percent to $442.1 billion.
The Barrington, Ill.-based consulting group expects those shifts to continue through 2018, with traditional channels continuing to give up ground to nontraditional ones, especially supercenters. By 2018, it predicts traditional supermarkets will claim just 36.2 percent of sales, with the share of supercenters alone rising to 19.4 percent. In the current rankings, supercenters, such as Walmart, are the second-largest channel, and saw sales grow 4 percent last year to $200.3 billion, giving them a 17.6 percent share. Sales at wholesale clubs, including Costco, added 2.3 percent to $98.5 billion; drug store sales grew by 1.4 percent to $61.3 billion, and food and consumables purchased at dollar stores jumped 8.9 percent to $28.7 billion.
To read more, click HERE.