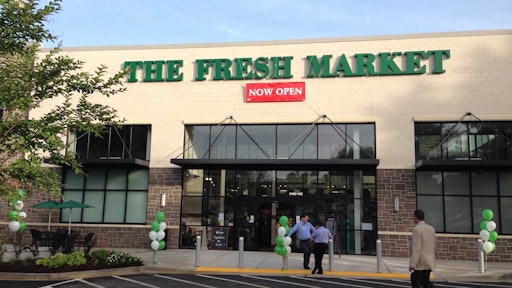 The Fresh Market Inc. has selected Supervalu Inc. to serve as its grocery wholesaler and distributor. Founded in 1982 and headquartered in Greensboro, N.C., The Fresh Market is a specialty retailer focused on providing healthy food and a high level of service to its customers.
"The Fresh Market is a terrific organization with a tremendous store base and a great consumer offering," said Mark Gross, Supervalu president and CEO. "The stores offer a great shopping experience. They are extremely well merchandised, meet customer demand with a keen focus on fresh, and provide a wonderful mix of traditional and specialty products. This is an excellent example of how our experience, strong distribution network and overall wholesale capabilities can serve larger grocery chains while also being flexible to the needs of specialty-focused retailers."
"We are excited about this relationship with Supervalu," said Rick Anicetti, The Fresh Market president and CEO. "Supervalu's experience in wholesale grocery and logistics capabilities aligns well with our strategic vision and will make them a valuable strategic partner for our future. This new relationship will be highly beneficial in enhancing our customer experience, with a focus on providing superior quality and freshness at a greater value."
In its role as grocery wholesaler, Supervalu will supply The Fresh Market with traditional and signature grocery products across a range of categories including meat, deli, bakery, grocery, frozen foods and dairy. The parties intend for Supervalu to become The Fresh Market's primary distributor upon the transition of The Fresh Market's current distributor relationships. Supervalu anticipates it will begin serving some of The Fresh Market's stores in the fall and will take on additional stores as the transition continues.
The Fresh Market, Inc. operates 176 stores in 24 states across the U.S.