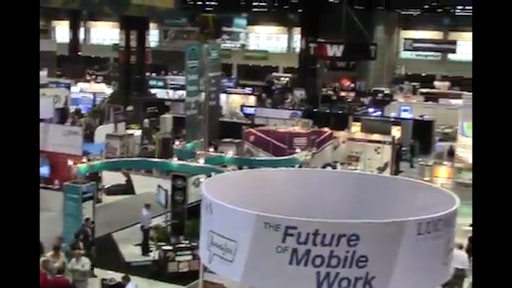 Amid all the exciting innovations on display at last week's ProMat show in Chicago, a central theme was the race to support omnichannel commerce. Material handling equipment and management software continue to find new ways to allow retailers to address a multi-channel marketplace, largely driven by e-commerce.
The food and beverage (f&b) industry has faced some unique challenges in addressing e-commerce, but one thing the ProMat show made clear is that technology is helping f&b play in e-commerce, the fastest growing retail venue.
Software providers and material handling equipment manufacturers are both recognizing the need for warehouses to handle not only more SKUs, but more smaller orders. E-commerce orders tend to be smaller orders, and this is not the only reason there are more smaller orders for warehouses to manage. Retail outlets are getting smaller, requiring suppliers to ship smaller quantities.
Several ProMat seminars examined the need for more versatile order management in response to the omnichannel challenge. Art Eldred, client executive for system engineering at VARGO Companies, a material handling solutions provider, addressed this challenge head-on during a seminar titled, "Autowave transitions – the best fit for e-commerce fulfillment." He provided an overview of how waveless picking offers a more efficient method of fulfilling e-commerce orders. (http://www.foodlogistics.com/news/12059607/promat-seminar-why-waveless-picking-makes-more-sense-for-e-commerce)
Intelligrated was among the companies introducing a WES solution. Intelligrated's WES solution combines WMS, WCS and order fulfillment functionalities to remove the silos of traditional warehouse systems and streamline order planning and fulfillment execution.
WES was also a focus at the SI Systems exhibit, where Ed Romaine, vice president of sales and marketing, observed that WES is quickly becoming its own entity in warehouse management. SI Systems has attempted to offer a suite of WES, WMS and WCS systems to integrate with a range of both manual and automated facilities. By accommodating different existing processes, organizations can use their own methodologies without having to custom code, reprogram or retrain.
Infor was among the exhibitors presenting cloud-based solutions. Vishal Minocha, director of product management supply chain solutions, said the cloud offers better security than dedicated servers. Infor's cloud-based solution combines warehouse management, labor management, 3PL billing and transportation execution in a single, unified solution.
Numerous material handling solutions addressed omnichannel needs.
SSI Schaefer presented a video demonstrating how a robotic case picking system with waveless ordering is being used by Australian grocery DC.
Raymond Corp., best known in the U.S. for its lift trucks, expanded into the storage solutions sector with its RadioShuttle. The shuttle can be inserted into and removed from a rack system by a lift truck. The remote control system was one of several innovations Raymond showed.
Bruce Buscher, vice president of sales for the smart handling division at Daifuku Webb, noted that f&b warehouses are taking more interest in automatic trailer loading. Wynright, a subsidiary of Daifuku Webb, was among the exhibitors offering both new automation and new software solutions. A human machine interface allows WCS software to control processes at the machine level yet supply an expanded view of the supply chain that encompasses information from different systems.
There were numerous electric lift truck innovations. While electrically powered lift trucks have dominated the supply chain in most industries, they are particularly important in f&b warehouses where product cannot be exposed to harmful vapors. AMETEK Presolite Power, Enersys, Douglas Battery, Flux Power Holdings, Raymond Corp., Hyster Co. and Yale Materials Handling Corp. were among the companies presenting innovations in either lift trucks and/or lift truck power management.
Mobile devices were certainly another trend on display in many of the booths.
One of the most interesting mobile solutions was Advanced Distribution Solutions, Inc. (ADSI) Size-IT digital mobile dimensional weight calculator at the show, providing a fast, convenient way to accurately capture dimensional measurements. This is important in light of the new rules carriers are using for dimensional rating.
Companies in this article