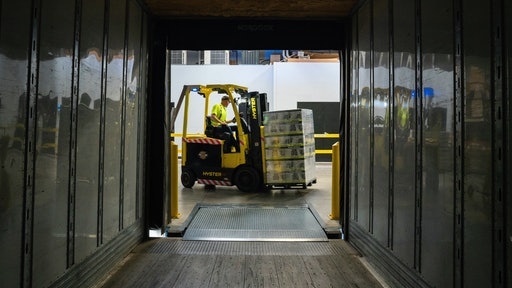 elevate_GAdkOpqbTfo_unsplash.5f2afe3a4846f
In 2020, every major industry faced unprecedented challenges and obstacles. The pandemic impacted the U.S. food industry in ways that are still being studied and analyzed. Food distributors had to overcome supply chain challenges, labor shortages and additional health and safety measures while protecting their facilities.
While the full impact of the pandemic might not be known for years, one thing is certain -- the industry's emphasis on security and safety is here to stay.
Food distributors remain essential
In many ways, food distributors serve as a bridge between the public and foodservice providers. Without a doubt, 2020 was a historically difficult year for foodservice distributors. There were plenty of good reasons why food manufacturer employees and their supplier employees were considered "essential critical infrastructure workers" from the beginning of the pandemic.
Food distributors know that disruption may occur for several reasons such as natural calamities, but no industry was fully prepared for a once-in-a-generation crisis like the Coronavirus disease (COVID-19). The pandemic and subsequent lockdowns blocked, and in some cases, destroyed many systems and manufacturers.
In the wake of the pandemic, food distributors are looking for ways to improve their security posture. This includes being able to monitor operations remotely and restricting physical access efficiently.
Importance of access control systems
Even before the pandemic, distributors faced the tough challenge of remaining in compliance with food safety regulations while maintaining a secure environment. As a result, they decided to incorporate security systems like access control and video surveillance to improve security and reduce risk.
While it is true that food distribution companies, especially those with large scale operations, have been using access control systems such as door buzzers, keycards and intercoms for years, the pandemic forced all distributors, regardless of their size, to evaluate their setup and consider new options. Some of these options included using:
· Electronic and biometric access control to protect critical control points.
· Touchless technologies to minimize contact as much as possible.
Biometrics are assisting the food and beverage industry in enhancing security and productivity. They enable food disruptors to minimize their physical security risks while supporting a safety environment. With biometric technology, management can operate their access control system remotely. If we learned one thing from the pandemic in terms of business operations, it was the value of cloud-based systems and remote access.
Cloud-based video surveillance
As with access control systems, food distributors have been using video surveillance systems in their operations for years. Constant changes to production practices and day to day operational challenges drive distributors to foster stronger internal processes and integrate security systems such as video surveillance.
Simply put, cloud-based video surveillance means that all footage is stored in the cloud and delivered as a service over a secured connection. Video surveillance technology can be used for monitoring production, identifying safety issues or potential hazards, training new employees and more.
The food industry is expected to experience significant changes in the coming years. Upholding safety standards and dealing with an ongoing pandemic will certainly provide plenty of challenges moving forward. To stay current, food distributors will need to figure out the best security options for their facilities. Access control and video surveillance systems are certainly going to play an important part in this process and security integrators will do their best to educate and support them along the way.