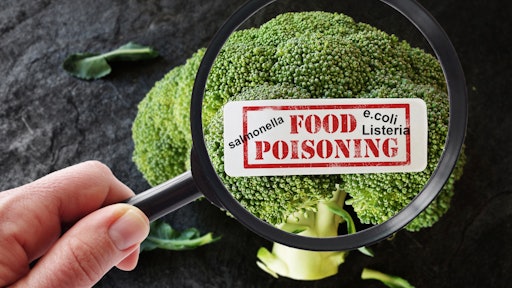 Getty Images
Over the last several years, the food and beverage industry has seen regulations and standards, such as the Food Safety Modernization Act (FSMA) and GS1, change dramatically. Standards in many other countries are evolving as well. This is all in an effort to be proactive rather than reactive when it comes to food safety. The goal is to prevent food integrity issues from happening, or to at least catch them before they reach the consumer.
Unfortunately, breaches in food safety still occur and will most likely always occur. Recalls are going to happen and should happen when warranted to keep the public safe. Standards, regulations and best practices cannot totally eliminate bacteria or the occasional human error. Given today's complex supply chain and the number of physical product touchpoints, breaches will occur. It's almost unavoidable. We can, however, continue to improve the processes and practices for prevention and improve on the ways recalls are managed and conducted.
Recently, a major U.S. grocery store chain had an issue with contaminated frozen vegetables from a popular frozen food manufacturer. There was a breach that was discovered in test samples that grew after the product was shipped. The retailer and food supplier announced that recall measures were in place to take appropriate action to minimize the impact.
There are a number of processes food companies should have in place when this scenario arises. Sell by dates are a good start. Most products have lot numbers and other identifying markings on the packaging that indicate production date, time and place. These markings give manufacturers an easy way to identify products.
Today, advanced technology provides manufacturers with many tools to assist in preventing issues that justify a recall and in managing a recall when one is needed. Compliance is challenging. In today's competitive environment, and with the emphasis on regulations, breaches in food safety can incur fines and threaten a company's brand and reputation. Many other entities can be impacted as well as the retailer, including any organization that assists in the distribution of the products.
Integrated enterprise resource planning (ERP), demand and supply chain planning, quality management and track and traceability tools can assist in proactive food safety assurance and recall management. Peripheral specialty systems and ERP designed for the food and beverage industry can provide visibility into food safety, quality control and traceability. Tools are available to help with field to fork traceability, from source of origin through distribution. Sophisticated asset management tools can be used to monitor all aspects of plant maintenance and production line cleaning practices and many other critical procedures can be executed and managed through these systems.
Documentation and labeling standards can be put in place so a product can be quickly identified by SKU, lot number, serial number where applicable, manufactured date and location. These standards allow a product to be tracked lin the same way it is tracked by product sell by date. In an industry where recalls seem to be increasing, a manufacturer must demonstrate that it can track its products during each stage of its life, from ingredients to finished goods, and prove that proper plant sanitation and inspection programs are in place.
This is why food and beverage companies should implement specialized ERP solutions to provide a centralized system for managing critical elements of their operations. Product recalls are expensive in terms of both product cost and potential damage to a business' reputation and brand image. Having an effective ERP solution in place that can perform efficient plant maintenance, food safety, traceability and recall procedures will help minimize the costs of a recall, and enable food and beverage manufacturers to become agile, effective enterprises.