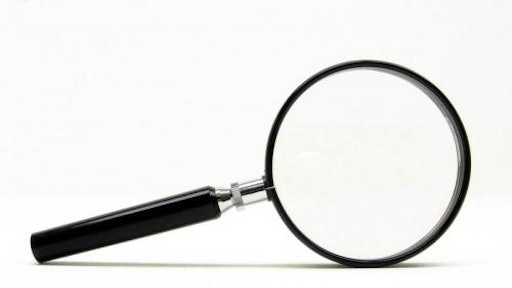 When the Food Safety Modernization Act (FSMA) was signed into law by President Barack Obama in January 2011, it was the most sweeping reform of food safety laws in more than 70 years.
However, for restaurants, food retailers, food transporters and warehouse distributors, other forces besides the FSMA are at work for ensuring food chain safety and visibility from farm-to-table.
"Increasingly, food brands want to strategically leverage information from the food supply chain," says Katy Jones, chief marketing officer of FoodLogiQ, a software as a service provider of food safety, traceability and supply chain transparency solutions. "Their end customers want to know what country the tomatoes in their salad came from, and whether or not the ingredients in their food contain certain allergens. Consumers are also interested in the country of origin, because they want to purchase food from countries with ethical labor practices. A track and trace capability enables brands to give this information to their consumers."
End-to-End Supply Chain Visibility
Companies also want to be able to closely monitor food quality and safety throughout their supply chains.
"Restaurant brands are a prime example of this," says Jones. "Trying to monitor and track food safety and quality issues across all of your locations is difficult to do without a robust system, and sophisticated brands are ditching their manual, time consuming processes and implementing supplier management software to get complete visibility in their supply chains."
The answer for many has been a supply chain system that can give end-to-end visibility through "a single pane of glass," reducing the person-hours formerly spent on manually monitoring food safety.
The automation provided by today's supply chain software has the ability to deliver this kind of end-to-end visibility, and consequently, enables companies to focus more proactively on compliance and on audits of their food supply chain suppliers instead of on manually tracking food safety and quality issues.
"This makes food supply chain management more efficient, and also contributes to companies' return on investment in the technology," says Jones, who added that while no one wants to face the adverse publicity and the expense of a food recall, brand damage can be significantly limited if a company can reduce the duration of an incident from weeks to days because of earlier incident detection and ability to respond.
"There's no doubt that companies understand that their brands are always at stake when goods are sourced and shipped," says Kirk Steinhoff, an owner and operator of ClimaTrack, which provides cold chain management solutions. "Inside distribution facilities and warehouses, temperatures for perishable goods can be monitored and regulated, but this visibility gets lost once the goods are loaded and transported. There is a general assumption that everything remains OK, but the only way to really know is through sensor-based monitoring coming from the transport vehicles in the cold chain."
ClimaTrack's real-time bar code and sensor data are compared to food storage requirements profile data stored on a central supply chain network. If there is a variance, an alert is issued.
"We can do this operation without having to place sensors on every single pallet," says Steinhoff. "This is a savings to transporters, because to put one data logger or sensor that can only be used one time on each pallet, you can incur a cost of $10 to $20 per sensor. With our solution, a trailer can be equipped with four sensors placed at the front, back and sides of the trailer. These sensors give true representations of the cycling of coolant throughout the trailer, and can immediately detect aberrations in temperature."
Conforming to FSMA
Collecting data from sensors and consolidating it on a central network also enables more effective tracking of food shipments that regulations like FSMA require—and that end consumers of food also want to know.
"Retailers are taking new measures to monitor incoming goods for quality, and I also anticipate that companies will perform more audits of imported goods," says Fred Wu, president of Deltatrak, which manufactures and sells cold chain data collection instruments and software that provides real time and recorded environmental temperature and humidity conditions during transit of perishable commodities.
It's a good thing because actual FSMA enforcement is low—and levels of enforcement are not likely to change with the new administration in Washington.
"People want to comply with FSMA because it makes sense, but it continues to be a problem of not having enough inspectors out in the field," says ClimaTrack's Steinhoff.
Regardless of how FSMA regulations and enforcement play out, companies still have work to do to ensure they get the end-to-end visibility for their food supply chains they want.
"One challenge in the cold chain in particular is that there are multiple players, and not all of these players have the same visibility of the supply chain," says Wu. "If you own your own fleet, the process is easier—but a majority of companies employ third parties, so you have manufacturers, shippers, transporters, warehouses, distribution centers and receivers at your retail stores. A central supply chain management network can plug all of these parties into a single supply chain where everyone gets end-to-end visibility."
Using Track and Trace Technology to Best Advantage
Technology can solve food tracking and tracing issues throughout the supply chain, but companies also have to know how to use this technology for best advantage.
"You have to be able to take the information that you get from your system and make it actionable," says Brad Bartlett, director of sales for the Americas at CoolTrax, which provide real-time temperature monitoring across the cold chain. This means that technology and business processes have to be integrated so that at one end of the supply chain, a restaurant can tweet out to a customer where the lettuce in her salad came from, and at the other end of the supply chain, a company can quickly pinpoint a problem with contamination or inadequate refrigeration and intervene.
"There are inherent challenges when it comes to achieving this end-to-end supply chain visibility," adds Steinhoff. "One challenge companies using 3PLs (third party logistics providers) have is that the transporter needs some kind of cellular connection or gateway in the truck to transmit environmental sensor information to the company's central network in real time while the vehicle is traveling. This is very expensive for companies to provide, and there is also risk that companies may not get the technology that they lend out back. There are also dead spots along the roadways that do not enable continuous real-time transmissions from moving vehicles. Telecommunication companies have to work on the transmission problem—but for the cellular or gateway connections themselves, this is where Internet of Things (IoT) investments come in—and it is one criterion that many companies are now adding to their lists when they evaluate which 3PLS to use."
Steinhoff believes that one day, Ultra Narrow Band (UNB) solutions will communicate with IoT towers along highways and emit very small messages that would be sufficient to transit food environmental status from moving vehicles. ClimaTrack already is working with these solutions.
Regardless of how new technologies for the supply chain and food tracking trace evolve, the best news of all for companies of many different sizes is that supply chain and sensor-based track and trace technologies are becoming more affordable.
"We work with all different size manufacturers, restaurants, retailers, distributors and growers, and our pricing structure allows companies to scale with the software as they grow," says FoodLogiQ's Jones. "We also recognize that many companies want to have the option of onboarding their suppliers onto their supply chains without the suppliers having to pay a fee."
Climatrack's Steinhoff advocates for companies to focus on software, not hardware. "If a company only has to buy a sensor once and can continue to reuse it at a minimal fee without having to reinvest $10 to $20 per sensor each time, it can concentrate on tracking food transport throughout its supply chain with state of the art software, and fine tuning operations.This is where you get the full benefit."
Onboarding New Supply Chain and Track and Trace Capabilities
What changes do companies need to make to their business processes when they introduce or add new supply chain and track and trace technology?
"We can onboard a company's suppliers all at once or in a phased approach, but the key to success is high-quality data on the suppliers, locations and products that make up the supply chain," says Jones. "We work with companies to ensure that the data being brought into the system is accurate, and this is not always the same process for every company. For example, how one customer defines compliance for their suppliers can be different compared to another customer. Our software allows a tremendous amount of customization to capture the unique needs of the food supply chain."
Deltatrak's Wu says that the IoT and many web-based applications have made it is easier to import data that uses common structures into a supply chain network, but like Jones, he sees compliance requirements that change from company to company. "This is why it is very important for companies to define their SOP (standard operating procedures) agreements with the suppliers that they deal with, and what the expectations of those agreements are," he adds.
"It's also important to note that the industry has done track and trace for many years, but the problem was that the information wasn't necessarily visible to all parties," Wu continues. "Without this visibility, it is very difficult to track so you can prevent something from happening, and this costs companies money. If a customer returns a head of lettuce to a retailer because it spoils, it is possible that its shelf life was reduced because it wasn't properly refrigerated at the initial pre cool processing point even before it entered into the supply chain—but you have to know where the problem occurred if you are going to take meaningful steps to avoid waste in the future."
Climatrack's Steinhoff believes that companies must advance beyond tracking and tracing and into next stage predictive analytics that can better inform them about what operationally is going on. "As an example, you can review your historical data, which can tell you if a particular transporter or refrigeration unit had difficulty maintaining the environmental conditions for perishable food," he says. "If you find that 80 percent of your alerts are coming from one refrigeration unit, you might need to replace that unit."
Best Practices
What best practices can companies adopt to improve food track and trace and the overall performance of their supply chains?
"The industry is just starting to identify best practices that will extend the usefulness of track and trace technology, but by visualizing the data that you get from track and trace, you can see how drivers are opening doors and delivering goods—and if this has an impact on food environmentals," said Cooltrak's Bartlett. "In the future, we may even see automation of trailer door opening and closing for optimal environmental protection. A second concern that automatic door opening and closing could address is product theft, which can only occur if doors are left open for longer periods.
Bartlett notes there also is a benefit for transporters when their retail customers try to send back goods that they say are spoiled. "In some cases, perishable goods are unloaded, and the receivers at the dock don't reload them into refrigerated compartments right away," he says. "If the goods spoil, the retailer insists that the transporter take the goods back, but with automated track and trace systems, transporters now have documentation on when they delivered the goods. This places more pressure on receivers at retailers to unload in a timely manner."
Finally, many companies are cognizant that sensors placed on transport vehicles can fail. For this purpose, they generally include spare sensor units on the vehicles that drivers can easily change out.
The combination of real-time food track and trace sensors and barcodes and end-to-end supply chain management helps food shippers, retailers and restaurants track food from farm-to-table, and ensures that the food they serve or sell is of high quality and will serve their brands well.
"Wherever problems manifest themselves in food supply chains, there are probably underlying issues," says Wu. "The best way you can find these issues and solve them is to get total visibility of your supply chain. When you use a web-based supply chain data as a service (DAAS) platform, you should be able to customize it to your needs, and it should be easy for your suppliers, receivers and service providers to use. It should add value instead of forcing you to change every business process, and it should be able to interface with your other systems, such as ERP (Enterprise Requirements Planning)."
"Some people begrudgingly monitor their supply chains and have a false sense of security—but when something goes wrong, they're glad to have the technology," adds Steinhoff. "The goal should always be to be proactive and to intercept food quality and safety issues before they turn into problems and publicity nightmares—because there is no price you can put on the value of your brand."
Mary Shacklett is the president of Transworld Data, a technology analytics, market research and consulting firm. Prior to founding the company, she was vice president of product research and software development at Summit Information Systems. Shacklett can be reached at [email protected].