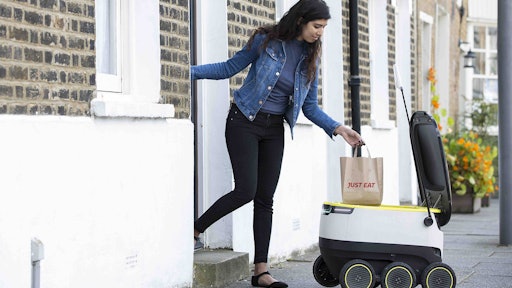 Personal Delivery Devices (PDD) have been given the green light by the State of Virginia. The legislation, which becomes effective July 1, permits the use of PDD in the Virginia and marks the first official statewide approval of the use of PDDs on sidewalks, shared-use paths, and crosswalks in the United States.
"I was honored to carry this important legislation and I am proud that Virginia is the first state in the nation to approve the statewide use of these autonomous delivery robots," says Sen. Bill DeSteph, who spearheaded the bill. "Passage of the legislation demonstrates Virginia's continuing commitment to the unmanned industry and demonstrates that the Commonwealth is open to growing this market in Virginia."
The PDD's, which travel on sidewalks delivering parcels, groceries and food within a 2 mile radius, reduce congestion and pollution in cities and neighborhoods, while increasing convenience and reducing cost for customers and businesses alike.
"Making Virginia the first state to pass the legislation has been a joint effort, says Delegate Ronald Villanueva. "We worked closely with all interested stakeholders to make this happen, and as chair of the House Transportation Committee, I am committed to identifying opportunities such as this that will advance Virginia's support of the transportation and technology sectors."
"The Commonwealth sent an unmistakable message that it embraces innovation and technology" says Ahti Heinla, CEO, Starship Technologies. "I applaud the McAuliffe Administration, Sen. DeSteph and Chairman Villanueva for their leadership in making this happen, and we look forward to making deliveries a little easier for the citizens of the Commonwealth of Virginia."
Starship Technologies is building a fleet of robots designed to deliver goods locally in 15-30 minutes. The robots have traveled tens of thousands of miles, met millions of people and have been tested in over 50 cities around the world to date. They drive autonomously but are monitored by humans who can take over control at any time. Launched in July 2014, by two Skype co-founders, Ahti Heinla and Janus Friis, Starship is changing the way parcels, groceries and food are delivered.