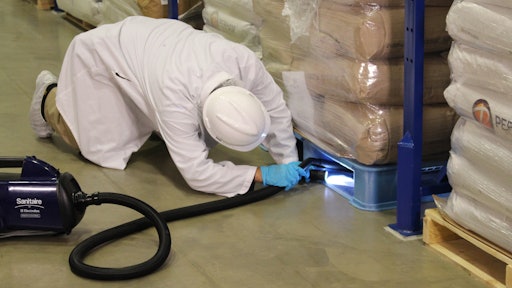 Every day brings a new report about a food product recall. With all of the progress in disease detection and recall management, hasn't the food supply become safer? Is the increase in recalls a result of more aggressive government enforcement of food safety? Or has the media simply become more attuned to food safety issues and giving them more scrutiny?
The short answer is that the globalization has created gaps in safety in the food supply chain and as a result, recalls are increasing. Food production, warehousing, transportation and supply chain technology has all evolved to close these gaps. But it has taken the supply chain time to identify all of its vulnerabilities and to get up to speed on the tools being introduced.

The government, meanwhile, is addressing food safety issues with more stringent regulations, in particular, those covered under the Food Safety Modernization Act (FSMA). And while the regulations in and of themselves will provide the supply chain an additional measure of safety, they remain in a state of uncertainty as the government has yet to finalize them.
While supply chain decision makers explore the various technologies that will enable improved safety practices, there are already some signs of progress. Confidence in the safety of the U.S. food supply has remained consistently high since 2008, according to the Washington, D.C.-based International Food Information Council. The organization's 2014 consumer survey found that 67 percent of consumers have confidence in the U.S. food supply. (page 9 IFIC 2014 Food Tech Survey).
The survey also suggested that the majority of Americans also have a positive view of modern agriculture, with 74 percent agreeing it can be sustainable, 71 percent saying it produces nutrition and high-quality foods, and 70 percent saying it produces safe food.
A note of caution
Nonetheless, the findings do carry a note of caution. While the confidence level remains high, it has been starting to decline, however slightly. The percent of consumers who are not confident in the safety of food rose to 14 percent in 2014 following a 4-year low of 10 percent in 2013.
Increasing food recalls could be contributing to the decline in confidence. Highly visible recalls such as Blue Bell Ice Cream and Kraft Macaroni & Cheese have focused attention on listeria, salmonella and E.coli.
Rising recalls also increase the cost of food operations, a cost that gets passed along through the supply chain.
Swiss Reinsurance Company Ltd. (Swiss Re), a global reinsurance company based in Zurich, Switzerland, examined how the increasing number food recalls is impacting public health services, governments and companies. The report also examines how risk mitigation can protect food manufacturers operating in a highly globalized, often fragmented, supply chain.
The report found:
The number of recalls per year in the U.S. has almost doubled since 2002.
Food contamination costs U.S. health authorities $15.6 billion per year.
Half of all food recalls cost the affected companies more than $10 million.
A globalized food supply chain is making risk management for food recalls more difficult.
Adding to the complexity is that much of the food now consumed today is "ready to eat." Ready-to-eat foods are the number one recalled food product category by a wide margin, as shown in figure 4. Ready-to-eat foods use more ingredients than other food. Hence, these foods require a larger supply chain which has more potential for unsafe food.
Ready-to-eat food, once processed, typically requires a third party such as a logistics provider to transport the food to distribution warehouses. In some cases, the logistics firm manages the warehouses while in other cases, another supply chain partner provides this service. Yet another entity can be involved in delivering the food from the warehouse to the store.
Maintaining the quality standards necessary to keep the often perishable product safe is a challenge, the report notes, even when the product only contains meat, vegetables or milk products. For a ready-to-eat meal, different foods come together in a complex system prone to errors. This explains why the ready-to-eat food category is leading by share of recalls.
The rise in the consumption of convenience food over the years has accentuated this trend.
Still other factors come into play. New food ingredients are continually coming to the market. Nanotechnology, nutraceuticals or functional food are also turning up in food products.
"In a more globalized economy, ensuring the highest level of food safety is becoming an ever greater challenge for firms," says Jayne Plunkett, head of casualty reinsurance at Swiss Re. "Today, ingredients and technologies are sourced worldwide. This leads to greater complexity for food manufacturers and consumer and regulatory demands on companies are continually increasing."
Demographic change creates vulnerabilities
Globally, the report found that demographic change is also exposing more sensitive consumer groups to the dangers of contaminated food. Ageing societies, an increase in allergies and malnourishment all increase the exposure to food safety risk.
"Food recalls can be caused by something as simple as a labelling error on the packaging, or as complex as a microbial contamination somewhere along a vast globalised supply chain," says Roland Friedli, risk engineer at Swiss Re and co-author of the report. "Yet even a simple mistake can cost a food manufacturer millions in losses and even more in terms of reputation."
The complexity of the food supply chain has unleashed a barrage of visibility and traceability tools that allow companies to prevent recalls and, when necessary, respond to them effectively.
Safety specialists play a key role
Increasingly, food companies are looking to third-party safety specialists to improve safety.
Checkers and Rally's Restaurants Inc. upgraded its safety auditing this past year by outsourcing the task to Ecosure, a quality assurance solutions provider owned by St. Paul, Minn.-based Ecolab Inc., according to Joe Ventimiglia, operations services and systems manager at the Tampa, Fla.-based franchise company.
The Ecosure audits are more comprehensive than Checkers and Rally's previous internal audits, Ventimiglia says. Ecosure's safety audit includes 170 questions. The audit also manages compliance with the different local safety regulations the restaurants must meet.
"You have a new set of eyes," Ventimiglia says. "Everything they're seeing, they're seeing for the first time. The biggest blessing has been the visibility. It allows us to protect the whole brand."
Ecosure, for its part, upgraded its safety audit process by introducing a dashboard reporting tool from St. George, Utah-based Steton Technology Group. The Steton Internet portal allows Ecoserve clients to manage all the data collected via a single database—even if it's from multiple locations worldwide.
"The system gets the audit data in the client's hands a lot faster," says Gary Smith, director of food safety systems at Des Moines, Ia.-based Eurofins USA, another audit service provider that has added the Steton portal for its clients. Eurofins has renamed Steton's auditing technology "Eurofins Audit Portal," or "EAP," for short.
"EAP allows our clients to have one system to see all their food safety audit results," says Smith. "The audit results can be used to better identify the root cause of their non-conformances, manage their corrective actions, and make business decisions off trended data."
Voluntary food safety audits increase
The need to control safety in the supply chain has fueled the growth of voluntary food safety certification systems such as SQF, BRC, IFS, FSSC and Global Gap. Industry experts have noted these voluntary standards, as well as those of the Global Food Safety Initiative (GFSI), will enable a food company to comply with most of the pending rules under the Food Safety Modernization Act (FSMA).
Retailers and manufacturers sometimes have their own safety certification standards for third-party warehouses. But increasingly, food retailers and manufacturers are embracing safety certification programs administered by third-party audit organizations.
Lineage Logistics, based in Colton, Calif., in 2012 began introducing SQF certification to its facilities. The SQF certification is more stringent than the Good Distribution Practices (GDP) certification the company was using for its facilities, says Jim Reynolds, director of food safety and compliance. Lineage contracts SAI Global for both GDP and SQF certification audits.
The SQF certification is a Global Food Safety Initiative (GFSI) approved protocol, Reynolds says. In 2007, eight of the nation's largest food retailers began requiring food vendors to be GFSI certified.
By next February, 15 of Lineage Logistics' 112 facilities will have SQF certification. Reynolds notes the importance of selecting a reliable auditing company. "The auditing companies themselves are coming under greater scrutiny," he says.
Most of the technologies employed in complying with the audits have been available for some time, Reynolds says. These include temperature controllers on transportation vessels, temperature monitoring systems in storage rooms, and security cameras. "A lot of these technologies have existed—it's a matter of employing them to a higher degree of rigor," Reynolds says.
The technology that has improved the most has been remote temperature monitoring, he says. The technology can alert a supervisor in real time when a temperature is approaching a certain point. "We're able to determine at any point during the transportation whether the temperature is elevated to an unsafe level based on what type of product is on there."
Smith at Eurofins USA, says food safety certifications are growing 25 percent a year in the U.S. The U.S. is rapidly catching up to Europe, which has had a 15 -year head start in this area.
Food safety regulations are driving some of this certification activity, Smith notes. "There's a feeling that if a company has a certification audit, the government may reduce the risk of that organization and therefore reduce inspection frequency," he says.
The different certification programs, notably GFSI benchmarked standards, have their unique strengths. As a certification audit provider, Eurofins educates clients about the difference between the programs to help the customer decide which program best meets their needs. Certain programs may be more appropriate for companies based on their cultures, markets and industry.
Safety certifications specific to user groups
Food safety certification standards are specific to the key user groups: manufacturers, distributors and retailers, Smith says. For instance, the standards for manufacturers are not the same as for retailers, for instance.
For distribution centers, audits focus heavily on temperature reporting in cold storage areas. Added concentration areas include product rotation, protection from temperature abuse, employee hygiene and cleanliness during transportation. A distribution center audit will take one to two days depending on the size of the company.
Eurofins USA certifies food manufacturers and distribution centers. For direct retailers audits (restaurants, supermarkets, etc.), the company partners with Charlotte, N.C.-based Steritech Group Inc.
Cold chain players implement safety standards
Attendees at this year's International Association of Refrigerated Warehouses (IARW)—World Food Logistics Organization (WFLO) convention and expo in Orlando, Fla. got a chance to hear from three cold chain service providers who have implemented safety standards.
Ken Johnson, senior vice president of MTC Logistics in Baltimore, Md., told the gathering that voluntary safety certification makes for a better company. The company uses BRC. He noted that BRC audits are more stringent than customer safety audits. He said the safety audit, which lasts a day and a half, cost the company between $3,500 and $5,500.
Supply chain providers are also finding better tools coming on the market for their internal safety testing.
RLS Logistics, a 3PL based in Mt. Laurel, N.J., has introduced a more efficient listeria testing product called Sample6, says Selina Hart, RLS quality assurance manager. The Sample6 testing is done onsite at the company's Newfield, N.J. facility and eliminates the 5-day process of sending samples to an offsite laboratory. The Sample6 kit consist of a substance that gives a light indication within seven hours.
"It gives you a lot of information quickly and you're able to react faster," Hart says. "We have the ability to sample a lot more. It's fun and it's amazing." The company has doubled the amount of tests with the new system.
RLS developed its own software that emails supervisors and technicians when to do listeria tests. The software system also creates a record of the results. The new system not only saves time, according to Hart; it reduces the chance for a contaminated product to go undetected into the supply chain.
Norpaco Gourmet Foods, a Middleton, Conn.-based manufacturer of Italian-style specialty foods for grocery stores and restaurants, has built a robust environmental testing program using Sample6. Shifting from the tedious work of managing multiple spreadsheets has been a time saver, says Tiffany Ptaszkiewicz, manager of safety and quality. "It's just much quicker to do it in-house," she says. "My technicians have really embraced it and we are looking forward to rolling it out beyond the quality team. It just makes sense for our business."
The software automatically uploads the test results with other test results so all results can be viewed in one place.
With increasing globalization of the food supply chain, supply chain service providers must consider the full potential for lapses in safety controls. Stricter safety regulations are forcing these companies to pay closer attention to all possible vulnerabilities, a development that safety conscious supply chain service providers welcome.
At the same time, advances in safety technology are providing more tools to the industry to better safeguard the global food supply chain.
How To Control Trailer And Container Access In The Food Supply Chain
TrakLok International LLC, a firm specializing in trailer and container access control, became active in the food trade recently in response to food shipper requests, according to CEO Tom Mann.
The TrakLok device is an electromechanical system that provides an integrated access control, tracking and sensor/alarm platform. The system protects cargo integrity by monitoring lock and latch status changes, and providing enter/exit Geofence alerts. It notifies personnel by emails and text messages.
One of the advantages is that the system creates an electronic record. The driver uses a code to open a door. The system records who opened the door and how long the door was open. "The reporting side has become most important to these (food) customers," Mann says. "It's a brand protection issue."
Food is a leading cargo for over the road burglary since it is easy to resell, he says. The rate of food theft is rising. "Cargo at rest is cargo at risk," he says.
TrakLok recently upgraded its reporting function to support compliance with the reporting requirements for the Food Safety Modernization Act (FSMA). While electronic access control is common for facility security, trailer and container access control are traditionally mechanical only systems requiring manual recording and reporting of events.
Physical Safety Threats On The Rise
As terrorism increases, the global food supply chain faces a new set of risks.
TATE Global, based in Alexandra, Va., allows senior executives to make informed decisions about international operations through analysis and assessment with its TATE Global Access offering. The company makes recommendations based on knowledge of local threats to infrastructure, the local business environment, and local government practices that could affect business.
The company offers three primary reports: "In Review," "Market Evaluation and Entry," and "Personnel Threat Assessment."
TATE Global Access has been used by food industry clients, notes Peggy Lyons, company director.
A Mexican multinational organization began utilizing TATE Global Access customized reports to mitigate the risk associated with traveling in Mexico. The company's trucks were traveling to facilities throughout the country 24/7 and experiencing problems with cargo theft, extortion and kidnappings. TATE Global provided reports that allowed the company to rework transportation routes and protect both the company's personnel and infrastructure.
The report describes specific upcoming security threats by state, specifically focusing on highways and providing reliable details for planning and development. "For a food industry supply chain, this report comprehensively covers threats to employees, raw materials, cargo, facilities, as well as threats along the entire supply chain—from rural areas where food is produced, to food processing facilities, to shipping," Lyons says concerning the Access: Mexico report. "The report also identifies areas and activities that could be affected by cartel violence, extortion, kidnapping, cargo theft, corrupt authorities, and violence between government forces and cartels that could affect the company's business."
A global agribusiness was concerned about its interests in China, where it sells product and purchases chemicals used in food production. TATE Global Access provided the company insight on potential threats to the supply chain via its strategic analysis report. Report details include partnership and labor issues, details on pollution and contamination, regulatory development insight, local, national and regional political dynamics, and potential maritime threats to the supply chain. The report allowed company leadership to better plan for current operations and investment in a new facility.
Global Trade Brings More Pest Problems: What To Do?
By Patricia Hottel
The percentage of food imported in the U.S. is on the rise and that trend is expected to continue. With imports, can come pests. The challenge of controlling new invasive species will continue with the expansion of imports.
Invasive pest species such as the brown marmorated stink bug and kudzu bug provide new control challenges. Both of these insects are agricultural pests and will overwinter in structures in large numbers causing problems for both farmers and food processors. They are not native species and are spreading rapidly. In addition to the true bug invasives, there have been some new invasive ant species introduced in the south like the Caribbean crazy ant and the Asian needle ant. The quarantined, stored product pest, the Khapra beetle continues to show up in the ports of the United States in increasing larger numbers. This pest can be imported on products such as rice, flour and spices from Asia and Africa and it is a particularly
devastating stored product pest. With global commerce, the risks from invasive species are likely to continue.
Food safety regulations and third party audit changes are driving change in food facilities. The Global Food Safety Initiatives (GFSI) based audits are particularly focused on the documentation facets of the pest management process and program. Likewise, strong documentation to verify an effective pest management program will be needed for food safety regulatory compliance under the Food Safety Modernization Act (FSMA). Strengthening the food safety programs of imported food will also be targeted under FSMA.
The ongoing protection of environmental initiatives will continue to have an impact on the pest management industry. A recent example of this can be seen in regulations designed to protect pollinating insects. Although we applaud the protection of the environment, there can be consequences. Some of these same pollinators like bees can provide sting hazards to food plant staff and food contamination concerns in sugar and corn syrup processing facilities. Innovative techniques are required to protect employees, food products and the environment.
The economics of performing some tasks like cleaning, and structural repair are being cut in some food plant budgets. These budget cutting measures can directly impact pest management. Sanitation and structural integrity are all critical elements of pest management which are needed for control success. For some groups of pests like the stored product insects and small flies, elimination of the food source is essential to control. If we do not eliminate the source, there are limited alternatives for long term management of the problem.
Pest management includes reducing the conditions that contribute to pest survival. Yet the costs for services such as cleaning, which help remove pest food sources, have consistently risen. Many facilities have reduced budgets in housekeeping staff. Improved sanitation is especially important when stored product pests are found inside food processing equipment where pesticides use may be restricted. In addition, it is important to remove evidence when pest activity occurs, which is also often a staff function. Checking for reappearance of pest evidence can help the pest sealing in determining pest status. One way that pest management professionals can assist in cleaning includes web removal programs, bioremediation programs for organic material accumulations in drains and other areas and dropping removal through vacuuming.
To help in expediting and completing structural deficiency needs, some firms are now offering minor pest proofing to deny pest building access and harborage. Stainless steel mesh based products such as Xcluder can be used to seal small openings and these services are offered by pest management professionals. Many pest management firms will also offer door brush or door seal replacement to exclude pests like rodents.
Patricia Hottel is technical director at McCloud Services.
For more information:
BRC, 44-0-20-7854-8921, www.dbrcglobalstandards.com
Ecolab Inc., 651-293-2233, www.ecolab.com
Eurofins USA, 515-265-1461, www.eurofinsus.com
IFS, 49-0-30-726-25-062, www.ifs-certification.com
International Association of Refrigerated Warehouses, 703-373-4300, www.gcca.org
Global Food Safety Initiative, 33-1-82-00-95-85, www.mygfsi.com
Global Gap, 49-0-221-57-993-25, www.globalgap.com
International Food Information Council, 202-296-6540, www.ific.us
Lineage Logistics, 800-678-7271, www.lineagelogistics.com
McCloud Services, 224-227-6500, www.mccloudservices.com
MTC Logistics, 410-342-9300, www.mtccold.com
RLS Logistics, 856-694-3216, www.rlslogistics.com
Sample6, 617-393-7600, www.sample6.com
SQF, 202-220-0635, www.sqf.com
Steritech Group, 800-868-0089, www.steritech.com
Steton Technology Group, 435-656-5655, www.steton.com
Swiss Reinsurance Co. Ltd., 41-43-285-2121, www.Swissre.com
Tate Global Access, 703-282-0737, www.tate-global.com
TrakLok International, 865-927-4911, www.traklok.com
Companies in this article