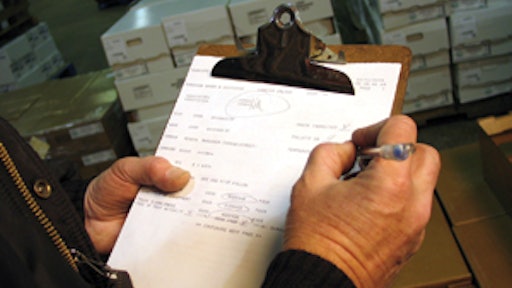 Propelled in part by increased public focus on food safety, many foodservice operations such as Atlanta-based RARE Hospitality International are performing the critical but time-consuming process of auditing their suppliers. The audit process can require one to two day's time, making it costly as well.
However, a partnership between RARE Hospitality's broadline supplier, U.S. Foodservice, and the Steritech Group Inc., a quality systems auditing firm headquartered in Charlotte, NC, has allowed RARE to instead focus its resources on the areas that help drive its business, while also enhancing food safety.
Food safety is critical to all organizations along the food chain. A supplier-auditor partnership is a natural opportunity to ensure the appropriate food safety quality systems are present. It not only reduces duplication of efforts but offers considerable time and cost benefits to everyone.
"We use U.S. Foodservice as our broadline supplier, and they were looking for a new third-party food safety auditing firm," explains Frank Ferko, director of quality assurance at RARE Hospitality, which owns and franchises more than 300 restaurants throughout the eastern half of the United States.
They include the well-known LongHorn Steakhouse, Bugaboo Creek Steak House, The Capital Grille and Hemenway's Seafood Grill and Oyster Bar. "With our limited QA staff and budget, it was good to know Steritech could step in and provide a comprehensive range of services."
Evaluating auditing firms throughout the United States was one of the first tasks on the job for Gary Smith, who joined U.S. Foodservice (USFS) as director of distribution food safety and quality assurance in February 2005. He needed a vendor that would help USFS consistently meet the highest standards—based on the FDA's GMPs, customer expectations and industry best practices.
"The data from our previous food safety auditor was not as actionable," Smith says. "We couldn't do much with it. There wasn't much difference between 'good divisions' and ones that needed improvement. For example, if there were concerns with one of our warehouses, we might receive a score of 900 (out of 1,000), whereas another facility with which there weren't any concerns might only receive a score of 940. Just looking at the numbers, you couldn't tell much difference. So we conducted a Request for Proposal for the selection of our third-party audit firm.
"We looked at quality systems of the conducting of the audits, from auditor selection and training, to field calibrations and continuous monitoring. As a result of this evaluation, Steritech was selected. The firm now audits all of U.S. Foodservice's divisions, including the eight divisions that service RARE's foodservice operations, and Steritech gives us data that we can use to help drive improvement within our divisions."
Inconsistencies in audit data, such as what U.S. Foodservice previously experienced, can be prevented through calibration. Also called standardization, it means that the auditor inspecting a facility is using the same criteria, approach and consistency as an auditor evaluating another facility across the country. It ensures the input clients receive is accurate, uniform and technically sound, and Steritech's calibrated auditors are some of the most highly trained in the industry.
Establish A Baseline
Dr. Robert Strong, Steritech's vice president, quality management systems, headed the auditing team and reviewed the previous auditor's data. The team then identified key issues and criteria for USFS. This allowed Steritech to establish a baseline from which to chart trends and determine areas for corrective action, such as temperature control. Steritech's semi-annual food safety audits at USFS also cover receiving and storage; employee and management issues; maintenance; general sanitation; will-call, which includes customer pick-up areas; picking of orders; and loading of outbound trailers.
"Previously, some facilities were getting high scores even when compliance was not good," Strong says, reiterating Smith's observations. "The audits obviously were not thoroughly done, and that spoke to some deficiencies in the prior firm's system. However, USFS's Smith brought a new level of food safety expertise to the program, and it is much stronger now. The scores from the second audit were higher."
"The two areas that set Steritech apart, from our standpoint, were the quality control checks of its auditors and its data management capacity," says Smith. "In regard to quality control checks [also called calibration or standardization], Steritech has an extensive program in which the company observes the auditor performing the audit. Essentially, it is 'auditing the auditor.'
"In addition, U.S. Foodservice has a program in which we perform calibration visits with the auditors to ensure we are getting the audit we have requested. It has been a very positive program. Even with the few instances where we have observed an issue, Steritech was quick to react and take corrective action to remedy the situation.

"The other area Steritech excels at is data management. With over 80 audits done every six months, U.S. Foodservice needs a way to use the information from the audits to help us to improve. The Steritech audit data is managed, and our top areas of opportunity are identified. We then use this information to drive the development of training materials that we use with our divisions over the next six months," he adds.
"This way, the Steritech audit data is always helping us drive continuous improvement. Another area of distinction is the development of a corrective action plan. The Steritech system facilitates the development of a corrective action plan for the divisions from the results of the audits. The plan is then shared with our customers who use the Steritech system and are verified by our regional food safety managers in their visits with the divisions."
USFS was also impressed by Steritech's technological capabilities, including a unique service that notifies customers via e-mail when audit data is available on a password-protected Web site.
USFS decided to use Steritech's services to the fullest advantage by making this data available to its own customers such as RARE and has noted an increase in customer confidence since then.
"Having the audit data available online has been really beneficial to us," says RARE's Ferko. "When Steritech completes an audit of U.S. Food Service, we are able to look at both the inspection and the action plan without leaving our desks. It really reduces a lot of our work."
Substantial Savings
RARE Hospitality is now so confident that it has reduced the frequency of its auditors to USFS, thereby saving RARE and U.S. Foodservice time and money. In 2006, RARE saved more than $1,000 for each audit reduced. RARE's foodservice operations can now focus their resources on RARE's core competency of serving more than 50 million restaurant guests per year because the company's distribution channel is under control.
"I took my team to Steritech's headquarters in Charlotte to review the whole food safety auditing program. The Steritech audit program is comprehensive and a great benefit to our quality assurance goals," says Ferko.
Says Smith of USFS, "We are sharing third party audit data with our customers, and they're very excited about it. Once they see the data, we tell them, 'Our third party audit program is accurate and the information is shared faster than with most other programs. So, if your only goal is to get actionable food safety information, requiring more audits increases cost but adds no additional value."
Both RARE Hospitality and USFS are considering expanding Steritech's services to include transportation or delivery audits. These audits would examine customer deliveries in progress and would verify whether products are being transported and delivered as promised.
"I'm very happy with the professionalism of Steritech, the work that they do and the flexibility their program has," says Ferko. "Steritech's definitely a quality organization."