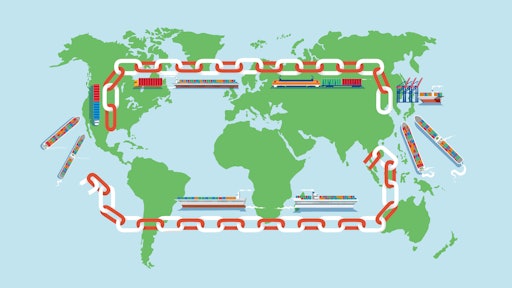 Reinhard - stock.adobe.com
Ocean freight bottlenecks, changing workplace and increased regulations rank as some of the Top 5 supply chain risks for 2022, according to Everstream Analytics.
"Pandemic shortages have revealed the global supply chain's fragile interdependence, pushing companies in every industry toward comprehensive risk assessments and flexible response plans," says Julie Gerdeman, CEO, Everstream Analytics. "We developed the Everstream 2022 Risk Report to provide advice and commentary on where to double down on risk mitigation efforts to keep supply chains stable."
From GlobeNewswire:
Worldwide water instability ranked as the No. 1 supply chain risk, with two-thirds of the global population set to face water shortages by 2025.

The global ocean cargo industry will continue to suffer from port congestion and delays in 2022, leading to ocean freight bottlenecks.

The risk of infection will force companies to reassess how workplace safety and worker compensation.

Just-in-time shifts to just-in-case, increasing buffer and safety stocks of critical components or best-selling products.
Sustainability disclosure and reporting requirements for businesses will continue to gain momentum amid scrutiny from governments, investors and customers alike. Further regulations impacting global supply chains will likely be enacted in 2022.