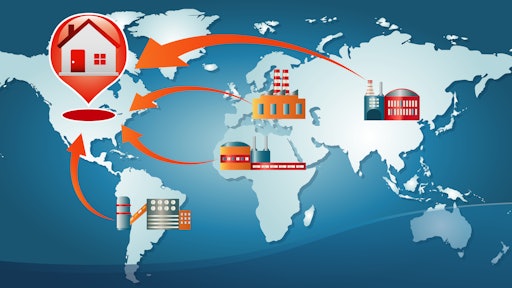 melita
I often get asked by a variety of supply chain industry execs my thoughts on the supply chain crisis. Are we nearing the end? Will we turn a corner? What can we expect in 2022?
Being that I'm just someone who covers and writes about the supply chain vs. being one of the many heroes behind the scenes, on the front lines, day in and day out, I can honestly tell you…. I do not know.
Every morning, I awake and scour the news on my cell phone. It astonishes me how things, events, life drastically change, almost overnight. Sometimes, a supply chain situation will improve; other times it will become the beginning of a domino effect of issues.
There is not a day that goes by where a supply chain disruption, fiasco or challenge isn't happening.
While some industry execs project the cold food chain to be on the right path, others showcase signs of sentiment, saying that problems, specifically with transportation, will "persist well into 2022, with problems existing throughout the supply chain—spanning from port and ship capacity to the ability of logistics networks to deliver goods to their final destination," according to Oxford Economics.
Container shipping rates are at their lowest value since pre-pandemic, which is currently around nine times their level relative to June 2020.
Warehouses are "bursting at the seams," the Oxford Economics report says, as a direct result to the e-commerce boom.
"With record-low U.S warehouse vacancy of 3.6%, and fewer construction materials available, the market cannot produce enough new warehouse stock to meet demand and alleviate congestion," according to a CBRE study.
Business models will continue to shift from just-in-time to just-in-case, and labor shortage bottlenecks will likely ease should companies answer the call for higher wages and better working conditions for heavy goods vehicle drivers.
Yet, one thing is still certain -- further disruptions due to the Omicron variant are possible and means that the situation regarding supply chain disruptions continues to be fluid and ever-changing.
"The closure of factories will likely restrain manufacturing activity, reducing the supply of goods to be shipped. While this could help the transport bottleneck, it will not be much comfort for those further down the supply chain. Moreover, port closures —particularly in China where a zero-Covid strategy is still in place—could potentially mean transport and logistics headaches may be with us for longer," says Oxford Economics.
Whatever side of the crystal ball you look into, it's time to change the narrative.
Challenges present opportunities and fiascos make room for learning experiences to improve, enhance, innovate and grow.
Supply chain disruptions are real and here to stay. Now, it's time to learn from previous mistakes, amp up that cutting-edge technology and get ahead of the disruptions so that the daily news cycle can tell a better story of how supply chains won in 2022.