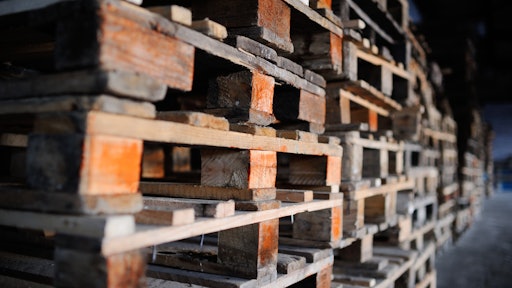 stock.adobe.com
There is a current pallet shortage going on in the food logistics industry, and while the effects haven't been felt yet – they will be soon.
The United Fresh Produce Association reports that a pallet shortage could impact the following:
Efforts of wholesalers, distributors and retailers to ensure sufficient nonperishables
The escalating price of lumber
Non-perishable inventory dwell time may increase
Lack of available trucks to relocate pallets
This isn't the first shortage that has been brought on since the Coronavirus disease (COVID-19) pandemic began, or even since the Suez Canal blockage. Food Logistics and Supply & Demand Chain Executive associate editor Brielle Jaekel reports that climate change is a contributing factor, particularly to the lumber shortage, as a spruce beetle has flourished in North America due to warming climates.
Meanwhile, there is a chicken shortage, a boba tea shortage, aluminum cans and even a gas shortage taking place. Adding a lack of pallets can only further stress the supply chain.
The United Fresh Produce Association predicts that the shortage could potentially continue through the remainder of 2021, just as many North Americna produce items are beginning to harvest and ship out.
"Working together, the supply chain must balance organizational goals relative to overall availability of goods with availability of food. If there is not a concerted effort across the supply chain to ensure pallet availability for shipment of produce, there is little doubt that it will be very difficult, if not impossible, for the grower/shipper community to meet buyer, and ultimately consumer, demand for produce. Simultaneously, growers and shippers are working hard to remain compliant with pallet requirement specifications where they can, but this is proving challenging. Temporary modifications or exceptions to pallet requirements, as long as they do not jeopardize safety, would prove advantageous until this pallet shortage is resolved," the association said in a news release.