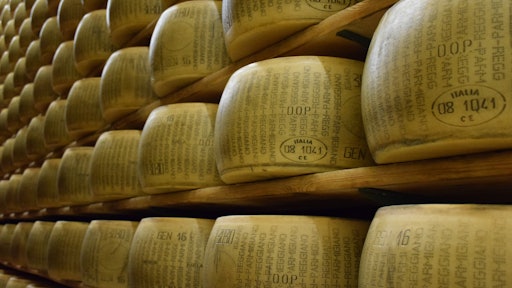 Pexels
The World Trade Organization gave the United States the go ahead to place billions of dollars worth of tariffs on the European Union. This is the largest amount of tariffs that the WTO has ever authorized.
Now, U.S. consumers will have to pay around $5 a kilogram more for Italian Parmesan cheese because of the duties.
Reuters reports that duties on Parmesan products will increase from $2.15 per kilogram to around $6 per kilo. U.S. consumers will have to pay more than $45 per kilo starting Oct. 18 from the current $40 per kilo.
The tariffs are said to greatly impact one of the strong sectors of Italy's economy.
The decision to move forward with tariffs came after several years of the two sides fighting over subsidies that Airbus received from European governments. Complaints from the U.S. stem back to 2004.
New duties will be placed on European-made Airbus planes (10%), French wine (25%), Scotch and Irish Whiskies (25%), and cheese from across the continent (25%).
Nicola Bertinelli tells Reuters that Italy is finding itself to foot a bill that is meaningless as the country has nothing to do with the Airbus consortium.
Consumers purchased nearly 2.4 billion euros worth of parmesan cheese, with more than 40% of production earmarked for export, Reuters reports.
The United States is its second-biggest export market receiving around 10,000 tons of the cheese per year from a total export production of 54,000 tons.