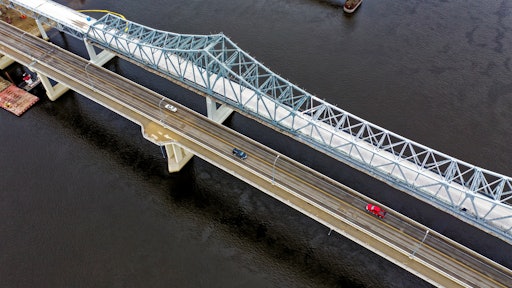 Photo by Tom Fisk from Pexels
The Mississippi River is rising to some of the highest levels in the last 26 years, forcing the U.S. Coast Guard to shut down a five-mile stretch in St. Louis, cutting off a major transportation hub for Midwest farmers and other industries, the Washington Post reports.
Flooding in the Midwest as a result of snow melt and spring rain has caused an estimated $12 billion in damage this year, the Post reports. The latest closure has left many farmers halting shipments altogether, preparing that the river most likely wont be fully reopened until June.
"It disrupts commerce," Butler Miller, who operates Robert B. Miller & Associates, a small company of 200 barges tells the Washington Post. Miller said of the river closure: "St. Louis is a big loading point. Now you can't even load anymore. If you are a farmer in Iowa, Minnesota or Illinois getting grain to New Orleans, you are really stuck."
Currently the U.S. Army Corps of Engineers service base has been busy with maintenance on the river, building temporary flood barriers.
In March the USDA announced that it will be assisting Midwestern farmers that are affected by the flooding, though stored crops that were damaged will not receive any disaster aid. It is unclear at this time if farmers further south will also receive aid.
"Recent flooding in the Midwest and along the Missouri and Mississippi River Valleys has caused devastating impacts across the region, and USDA has personnel and resources devoted to helping farmers and communities recover after this storm," Secretary Sonny Perdue said back in March. "I encourage area farmers and ranchers to contact their local USDA Service Center so we can work with them to identify the resources and tools needed to reestablish their operations. While farmers and ranchers in the area are resilient, the pain is real. We will do everything in our power at USDA to be as helpful as we possibly can."