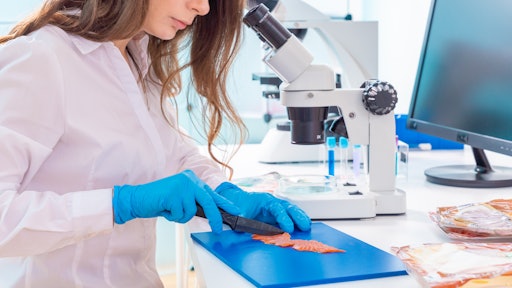 AdobeStock_294162256
According to a new market research report "Food Safety Testing Market by Forencis Research, the global food safety testing market is estimated to reach $30.4 billion by 2027 at a CAGR of around 6.4% during the review period.
Protecting foodservice or brands from contamination is essential for foodservice manufacturers and operators.
Product or food samples are taken from hospitals, restaurants, hotels, and manufacturing facilities are been sent to the accredited laboratories for microorganisms and allergen testing
Food safety testing and sanitation vary with food hygiene regulations of the operating country and the product
Growing concern regarding the outbreak of foodborne diseases has led to stringent food safety regulations by various food authorizes, which is further expected to drive the food safety testing market growth
Increasing demand for convenience and packaged food products have anticipated to drive the growth of food safety testing
Limited supporting infrastructure in developing countries has expected to hinder the growth of the food safety testing market during the forecasted period
Europe is anticipated to dominate the global food safety testing market owing to high disease prevalence of food-related allergies among consumers. This can be attributed to an increasing reliance on safety testing procedures. Moreover, enforcement of stringent regulator norms in the region has anticipated to drive the market growth.
Asia-Pacific is anticipated to be the fastest-growing market in the food safety testing market during the forecasted period. This is attributed to the growing international trade which has mandated food safety testing to comply with the regulatory standards. Government of different countries in the region has put regulation in place for customers, producers, and regulators to ensure the food safety and quality which in turn fueling food safety testing market in the region.