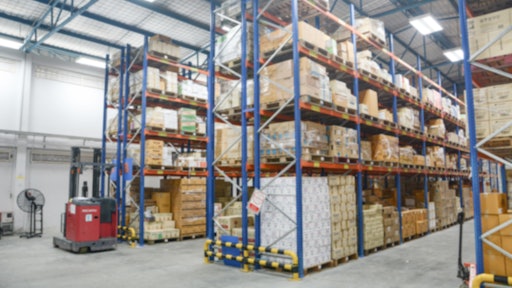 9kwan AdobeStock_298689111
With increasing customer demand for fast product delivery and the rising labor shortages, warehouse operations are adopting automated storage and retrieval systems (ASRS). These systems improve picking speed and accuracy by using robots to fulfill product orders. However, they also allow for more dense storage configurations, maximizing the number of goods a warehouse can hold, but presenting new fire hazards that require non-traditional fire protection schemes.
Traditional warehouse fire protection design schemes aren't suitable for the storage density, high racking, limited access and large amount of plastic containers associated with ASRS rack structures. While traditional warehouse rack structures have aisles between them big enough to accommodate a forklift, ASRS arrangements are extremely high and tightly packed, with little to no aisle between them. Further, there are no lengthwise flue spaces where typical in-rack automatic sprinklers are installed, and commodities are stored in plastic bins rather than the pallets used in traditional rack systems.
Denser shelving with higher racking, more goods and lots of plastic offer more "fuel" for a fire in that event, while the absence of flue spaces limits the area where in-rack sprinklers can be installed. To add to the challenge, ASRS technologies can vary by warehouse, and racking configurations aren't always covered under prescribed fire codes, especially those in large-scale facilities. To date, FM Global Data Sheet 8-34 is the only published standard covering these configurations.
In the absence of easily applied design standards, there are best practices warehouse operators and fire sprinkler contractors can follow to maximize the effectiveness of the fire protection system design and even reduce installation costs.
Best Practice 1: Thoroughly understand
FM Global

Data Sheet 8-34

FM Global Data Sheet 8-34 provides protection strategies for mini-load, shuttle-type and top-loading ASRS systems and recommended guidance for protecting ASRS racking arrangements. When designing fire protection systems according to FM 8-34, it's important to check for changes regularly, since FM continues to update the standard with clarifications and additions – sometimes without advanced notice to the industry.

In their updates, FM can alter requirements around sprinkler usage as well as other factors like water pressure that have a significant impact on in-progress designs. For example, in January, FM published a revision which added new extinguishment requirements for top-loaded ASRS systems, providing new schemes and revising the definition of "adequately vented containers". These updates are critical to be aware of, as they could dictate changes like reducing the number of sprinklers required for a design or increasing the distance between racks, possibly impacting the validity and effectiveness of in-progress designs.

By thoroughly understanding FM 8-34, contractors can find design schemes that appropriately protect ASRS configurations. It also allows contractors to establish a baseline cost when developing a quote for a customized solution that can provide the same fire protection effectiveness as a solution that strictly follows FM 8-34.

To receive an alert when updates are published, contractors can sign up for notification emails on the FM website.
Best Practice 2: Customize fire protection for ASRS racking arrangements
An alternative to following FM 8-34 is customizing a warehouse fire protection design scheme based on the specific ASRS configuration within a warehouse. The equivalency clause of NFPA permits the use of alternative fire protection strategies that are recognized as equivalent to prescribed schemes and comply with the Life Safety Code by the authority having jurisdiction.
While FM 8-34 is an excellent place to start and provides detailed guidance for effective fire protection for ASRS configurations, warehouse operators and contractors might choose a customized fire protection solution so they can optimize sprinkler placement and function for cost savings. That's because FM 8-34 recommends multiple levels of many in-rack sprinklers and vertical barriers for ASRS configurations since they often involved large, complex racking structures that make it harder for water from higher-up sprinklers to reach lower hazards.
This can result in an effective but overly complex and expensive systems due to high material and labor costs. Given the obstructions and tight clearances within the rack, it can be challenging and time-consuming for contractors to install so many in-rack sprinklers. It's also possible that daily warehouse operations, like manually retrieving and storing shelved goods, could damage in-rack sprinklers, leading to costly repairs and potential system downtime.
When customizing fire protection schemes for ASRS configurations, the right design combined with the right sprinkler selection can minimize the number of necessary in-rack sprinklers and piping for every potential fire scenario and eliminate vertical barriers altogether. In addition to reducing upfront costs, custom designs usually require less lifetime maintenance than schemes designed to FM 8-34 since there are fewer installed sprinklers to inspect and service, reducing total cost of ownership.
When selecting sprinklers for a custom design, it's recommended to choose sprinklers with a large K-factor, which is the rate of water discharge. A sprinkler with a K-factor of 14.0 GPM/(psi)1/2 or larger will help to reduce the pressure requirements for the system, since ASRS sprinkler arrangements do have high water demands. In turn, this can also reduce pipe size requirements and installation costs, leading to savings from several angles.
Installing upright sprinklers within the ASRS configuration rather than pendent sprinklers can help reduce the risk of possible damage from passing commodities. Uprights are installed on top of the pipe and are less susceptible to being struck by boxes or bins than pendent sprinklers, which hang beneath the pipe.
For warehouses with cold storage applications, contractors can leverage UL Listed antifreeze solutions to help ensure fire sprinkler systems operate as intended in freezing temperatures. The latest antifreeze solutions perform at temperatures as low as minus 25°F to protect against freeze damage failure and ensure flow in wet fire sprinkler systems. Always look for a solution that meets NFPA requirements, is UL Listed, is non-toxic, and is compatible with steel and CPVC piping components. While present UL Listed antifreezes are not listed for ASRS applications, the efficacy of a system using UL Listed antifreeze can be proven with full-scale fire testing.
Best Practice 3: Conduct full-scale fire tests
Per the NFPA equivalency clause, customized fire protection strategies must provide the same fire protection effectiveness as a prescriptive scheme. Full-scale fire tests are a reliable way to confirm customized warehouse designs are equivalent and can include a combination of simulation, physical spray testing and live fire testing.
For best results, it's recommended to start with simulation and modeling since it can help determine the ideal scheme design and guide the rest of the testing process. For example, fire dynamics modeling (a type of simulation) can help to understand how fire will propagate and grow within a warehouse racking structure. By leveraging fire dynamics modeling, different sprinkler arrangements can be evaluated, and the output of the models allows engineers to design a customized fire protection system. The modeling can also be used to help develop the "worst-case" fire test as well as reduce the number of fire tests required to validate the efficacy of the fire protection strategy.
Beyond determining efficacy of customized solutions, full-scale fire tests can help provide cost savings through more materially efficient designs. Testing can demonstrate that, with the right design, sprinklers prevent horizontal fire spread without the use of vertical barriers, so barriers and the related material cost can be eliminated from the custom design. Insurance carriers may even offer reduced premiums as the efficacy of the fire protection system has been proven through actual, full-scale fire tests.
Keep business running safe and strong
With the rapid adoption of ASRS, it is critical for warehouse owners to re-evaluate their current protection strategies, understand their options, and ensure that their racking arrangements are protected for the worst-case scenario. By following a few best practices, warehouse owners and fire sprinkler contractors can develop effective, affordable ASRS fire protection schemes that can help keep product moving and business running.