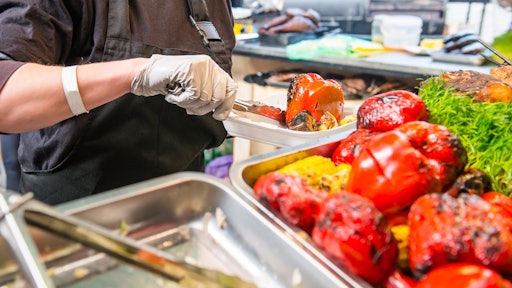 okrasiuk AdobeStock_214584864.
Over the past year, the food industry has seen many areas of growth, change and evolution. And looking toward 2023, food businesses can't take their eye off the ball. The industry has felt the effects of macroeconomic uncertainty, a newfound focus among consumers on the safety and quality of affordably-priced food, the adoption of new technology and the demands of regulatory bodies to further ensure quality and safety. In the coming year, many of the trends the industry is now facing will accelerate, and other issues that had remained largely in the background will come to the fore. Here are some of the biggest themes expected to be on the industry's radar in 2023.
Consumers will crave more traceability
Food traceability has been a focus for the industry, regulators and consumers for some time now. Interest in the matter ramped up quickly when the COVID-19 pandemic began, and has only accelerated in the past year, with macroeconomic trends bringing consumers to really think about the availability and quality of their food. Today, it's safe to say that ordinary consumers care more about their food than they ever have. The industry used to take it as a given that consumers would trust the producers and distributors of the food they can purchase at the grocery store, and the food supply chain was of no real concern to them. Now these factors are out in the open, and we need to assume they'll remain at the front of consumers' minds for years to come. The industry must acknowledge this evolution in consumer thinking. In 2023, expect to see even more of an interest and emphasis on traceability – consumers need to know they're getting a reliable product and the best bang for their already-stretched buck.
Sustainability will become an industry priority
The fact that food systems are unsustainable is not news for the vast majority of food professionals. Apart from a handful of engaged brands, providing high-end, high margin products, choosing between sustainability and business performance has been a tough dilemma for food and beverage companies. 2022 was a pivotal year in this respect and the true commercial value of sustainability will be illuminated in 2023, as sustainability becomes a driver of business value creation and finally aligns with business goals. The upcoming integration of Scope 3 emissions in the GHG emissions for European, and likely also U.S. companies, is going to put an increasing Darwinian pressure on food companies, who will have to adapt or die. Lots of low hanging fruit can be harvested, with a short return, especially regarding operational improvement. All of this is now available through cloud technology, leading to a more optimal use of resources, which is good for both the environment and the balance sheet.
Keep your crisis manager nearby
Social media always plays a large role in food-related crises. The life of a food-related crisis manager today is a roller coaster, on account of fast-paced, 24/7 news cycles. There's always another news story around the corner, so consumers frequently will move onto the next fairly quickly, but social posts can have a long life, and so can memories. Consumers have become acclimated to using social channels as a convenient and efficient customer response center, which they know will generate a speedy response. But responsiveness is table stakes today, and crisis management must become more well-rounded and more focused on reputation management across all relevant public digital channels. The process of cleaning up messes is never cut and dry. The food industry can't simply rely on the news cycle moving along – it absolutely needs crisis managers who can handle the ins and outs of social media. In 2023, this role will continue to be critical for a business's reputation and success in the marketplace.
Digitization will accelerate
While many industries have tested and adopted artificial intelligence (AI) technology for their own relevant use cases, the food quality and safety industry has taken its time. This has kept the pace of digitization slower than it needs to be. This is the time to set expectations for digitization strategies, and to audit processes to locate where digitization can enhance efficiency and cost-effectiveness while maintaining high product quality. Many people in the industry fantasize about a massive digitization product that will bring about a comprehensive overhaul of the industry. That's not a realistic expectation. It's better practice to use AI and machine learning (ML) to solve specific problems, one issue at a time. This is the approach the industry needs to take in 2023, as food plants continue to become more digitally focused. The push for digitization will be felt more strongly and widely in the coming year, and the capability of leading this change faster than the competition may likely make Darwin right again.
The food industry needs to keep pace with modern businesses in other sectors; it has the tools and know-how to make the changes it needs to make. For food business leaders, it's clear that in 2023, staying ahead of the pack must require a vision and commitment to building toward the future, a strong understanding of consumer sentiment and needs, and a capability to drive digital transformation forward swiftly.