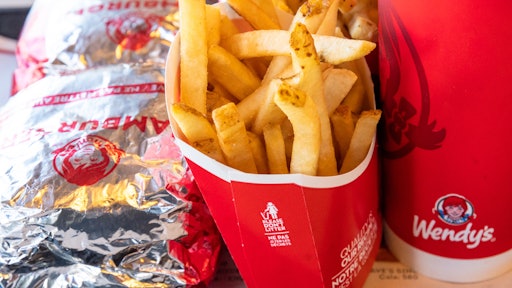 TOimages AdobeStock_299737720
Wenspok Companies is a Wendy's franchisee based in Spokane, Wash., encompassing 67 restaurants in the United States. All 67 locations are leveraging Squadle's digital operations and food safety software, and five locations recently piloted Squadle's remote temperature monitoring (RTM) system. With so many locations, equipment breakdowns are a constant headache. Wenspok chose Squadle RTM to improve equipment health awareness, ensure 100% compliance on food safety and prevent waste. After seeing beneficial results across 5 locations, Wenspok quickly rolled out RTM in its remaining 62 locations to achieve the same results.
Automatic equipment temperature checks
Squadle's hands-free RTM system allows operators to wirelessly monitor ambient and product-simulated temperatures of freezers and coolers, which saves time while keeping stores in compliance. Operators place sensors inside of the equipment to track, and Squadle monitors the interior temperatures 24/7. Using a proprietary, certified algorithm, the sensors approximate and capture internal product temperatures without the use of a handheld probe.
Soon after installing, Wenspok noticed a major improvement in the number of equipment temperatures being recorded. Squadle not only helped to boost reporting, but also ensured accuracy. With digital temperature monitoring, employees can't "pencil whip" or falsify the numbers. Temperatures are automatically captured into Squadle's digital food safety logs with the click of a button. As a result, Squadle's Bluetooth sensors have helped to eliminate fake temperatures that operators previously noticed in Wenspok's equipment logs.
In addition to increasing the number of recorded temperatures and improving accuracy, Wenspok also saved time.
"The Squadle temperature sensors have made a noticeable impact on time-savings for us. We've saved one hour of labor per day, per location. That's time that we can redirect to serving customers," says Adam Azril, director of training and technology at Wenspok.
Wenspok saved time on detecting equipment failure and removing any spoiled product as soon as possible. The Squadle alerts and guided action items have also helped employees work more efficiently. Wenspok was able to reallocate time previously spent on temperature checks over to customer service, resulting in speed of service improvements. Wenspok's Squadle locations have achieved a decrease in speed of service (SOS) wait-times of 9 seconds on average. Meanwhile, the locations without Squadle previously only experienced improvements of 2 seconds.
"The amount of time the Squadle tablets have saved us via accessing our back-of-house fridges and freezers has been immense," says Azril.
Squadle has helped this Wendy's franchise save time by evaluating walk-in inventories and standardizing inventory orders across the company.
Reduce product loss and save $20,000 in equipment repair costs
With 28-35% of a quick-serve restaurant's (QSR) budget spent on ingredients, it is crucial for them to proactively protect their inventory. Pre-Squadle, Wenspok averaged a variance of 1.67% throughout all 67 locations. After switching to Squadle, Wenspok averaged a variance of 1.52%, generating $84,726 in savings. Arzil noted the savings are "largely due to Wendy's teams utilizing our checklists, monitoring product temperatures through Squadle sensors, and maintaining proper levels of product throughout the day."
Squadle's push notifications (email and text) alert operators if any equipment falls out of the standard temperature range. Azril noted that the notifications have been "very impactful to our maintenance technicians and teams … During the time we've had Squadle sensors, we've replaced four locations' compressors before they became a major issue, including a walk-in. The impact of the product saved in this location is around $7,500."
In addition to inventory savings, equipment repairs are more timely, faster and more accurate as real time notifications make it easier for Wenspok store technicians to understand equipment issues and resolve them immediately. Wenspok observed Squadle has helped them save nearly $20,000 in refrigeration repair costs. Technicians are now able to pinpoint underlying issues when reviewing Squadle's hourly temperature reports. For example, the Squadle data informs technicians if the walk-in issue is caused by over-cooling or a gradual leak.
Digital food safety helps improve restaurant audit scores by 4%
Before Squadle, Wenspok's audit score was a combined 90.4% through Ecosure's food safety assessment (FSA). Since implementing Squadle, their subsequent rounds of FSA's increased to 94.5%, an improvement that is, "much in response to Squadle's consistent reporting method," says Azril. Overall, switching to Squadle has helped Wenspok decrease critical failures. Pre-Squadle, Wenspok received 23 critical failures during FSA's. Alternatively, implementing Squadle has reduced Wenspok's critical failure number to 4, three times less than the prior year.
A square burger backed by fair and square food safety
Squadle's goal was to help keep Wendy's/Wenspok refrigerators and freezers safely frosty. From time-savings to increasing restaurant profitability and transparency, teaming up with Wenspok on food safety has been a privilege.