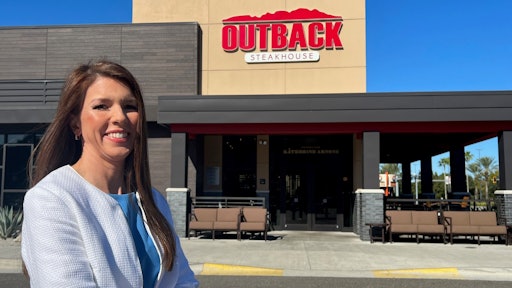 Bloomin Brands Inc.
Not many people can say that getting sick from unpasteurized milk is what propelled their career in food, but Lindy Miller can.
That's because when Miller was eight years old, she contracted salmonella poisoning from unpasteurized milk. It was that moment that ensuring the production and distribution of food quality and safety became her mission.
So, at 16 years old, she began her climb up the foodservice ladder, from server to trainer to food preparation and food manufacturing to quality assurance and new product development at Boston Market, Brinker, ConAgra Foods, Topco Associates and Burger King, where she spent nine years as director, global product innovation R&D.
"Challenges, learning and continuous optimization come with food manufacturing, supply chain and logistics," says Miller. "Getting products from farm to fork is complex, and I thrive on finding solutions. No day is the same for a QA professional working in the restaurant industry, and I love that."
In 2012, Miller joined Bloomin' Brands (BBI) as senior director, quality assurance, where she would later leverage her manufacturing experience to establish world-class food safety and quality practices across the global organization, which consists of 77,000 team members and more than 1,450 restaurants throughout 47 states, Guam, and 20 countries.
Fast forward to today, her mission is more about food safety than ever, as she works with BBI's network of restaurants, which include Outback Steakhouse, Fleming's, Bonefish, Carrabba's Italian Grill and Aussie Grill, to ensure food quality and safety during one of the foodservice industry's most challenging times.
"It's not easy being a server or an operator. I know from experience that front-of-restaurant and back-of-house jobs are demanding. Anything the supply chain and quality assurance teams can do to make their jobs easier is a priority, and that's why preventing food shortages and ensuring food quality and safety is so important," Miller says.
That's why Miller strives to bring stability and consistency to the table, offer guidance and set a solid foundation to minimize risk. She's hands-on, collaborative and yet, still carries on her mission to deliver safe food each and every time. She's nimble, solution-minded and is fully dedicated to food safety and the business. It's these reasons as to why Food Logistics' named Miller the overall winner of the Rock Star of the Supply Chain award.
The Rock Stars of the Supply Chain award recognizes influential individuals in the industry whose achievements, hard work and vision have shaped the global cold food supply chain. Food Logistics' received close to 100 nominations for this award, but what differentiates Miller from other award winners is her ability to take an experience – such as contracting a foodborne illness – and turning it into an opportunity to help others. The same can be said for how she views the foodservice industry's struggles in a time of supply chain crisis.
"We turned the pandemic into an opportunity to bring our brands and our partners together in important and valuable ways that are having a positive impact on the business. This work has increased efficiency in the processes and partnerships throughout the supply chain and restaurant business," she adds. "My team's work, directing end-to-end quality assurance and food safety from the supply chain level all the way to the restaurant, impacts BBI operations in every corner of the globe."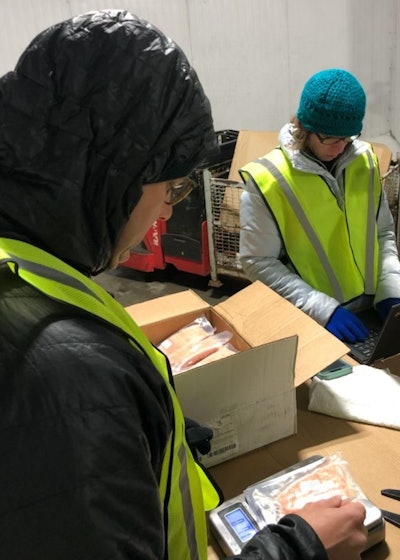 Turning challenges into opportunities
The foodservice industry continues to take hits as a result of the Coronavirus disease (COVID-19). Whether it's possible mask and vaccination mandates or the surge in prices of ingredients and raw materials or the ongoing labor shortage, many of today's restaurants grapple with how and when to pivot yet still maintain food quality and safety standards.
Under Miller's leadership, BBI has always had a global footprint of approved suppliers. It entered the first year of the pandemic with a solid supply chain and quality assurance foundation, which allowed the organization to focus on optimization, process efficiency and simplification rather than starting from scratch and being reactive, Miller says.
"Over the course of my career, I've learned how important it is to build and cultivate relationships with our business partners. They are an extension of our business and are critical to our success," says Miller.
In 2020 and 2021, BBI engaged in knowledge sharing with global peers and colleagues to discuss what works and what doesn't, while also gaining insight into supply availability across the global BBI network.
In response, Miller and her team simplified operations, improved collaboration with supplier and network distribution partners and zeroed in on still delivering consumers' favorite menu items. Also under Miller's leadership, the QA staff leveraged these supplier partners as well as BBI's worldwide restaurant team to effectively navigate the supply chain challenges of the pandemic.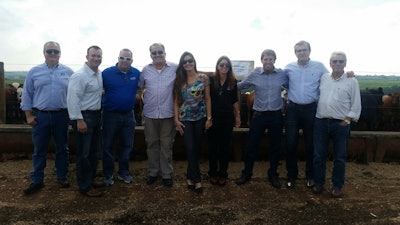 Miller also led the charge to serve safe, high-quality food throughout the past year despite the supply chain challenges caused by the pandemic. The process and procedures that BBI's supply chain and quality assurance teams had in place, including supplier approvals and cold chain management, assured farm-to-fork compliance no matter what disruptions occurred.
"Strong partnerships and processes create a better experience for guests and deliver consistency to restaurant operators so they can focus on their guests," says Miller.
Other key tenets of her achievements include ensuring that 100% of all new food and beverage suppliers across the brands are processed via BBI's global EQMS software system; managing substitutions, alternatives, multi-sourcing and more to remain nimble and agile and support core menu items; leveraging the strengths of each individual on the team; implementing cold chain traceability to risk-assess food and beverage categories; providing ongoing mentoring and advocating for innovation to achieve speed to market; and forming collaborative, ongoing partnerships with cross-functional teams are prioritized.
Miller's early start in foodservices also helped her gain that competitive differentiator needed to manage food safety professionals. The bottom line is that food has to be safe, no matter what.
"I am proud of the quality assurance teams' ability to be nimble and pivot quickly to find solutions, especially with the unpredictable nature of the pandemic," Miller says. "We'll continue to work diligently to ensure that BBI will continue to have an adequate supply of our core customer favorite products from QA-approved supplier facilities."
"While nimbleness and agility will both be key in 2022, companies like BBI must rely on their supplier and network distribution partners to achieve success bringing goods to the restaurants.  Our supply chain team works in lockstep with partners to strategize and plan for the 'unexpected issues,'" adds Miller. "During the pandemic, we were able to draw upon our past experiences to manage shelf-life extensions as well as exceptions, not only to minimize food waste, but also to ensure food safety. This will no doubt continue into 2022 as supply chain complexities evolve."
At the end of the day though, when all is said and done, enforcing food quality and safety becomes more challenging as the pandemic and other disruptions interfere, but a solid team and even stronger leader prove that behind every challenge lies an opportunity for growth.
"I must give credit to our entire team for all the hard work and due diligence pushing forward this past year, which proved to be even more challenging than the previous one," Miller adds. "Their passion and resilience allowed us to handle many curveballs and find solutions to put our operators and our guests first."