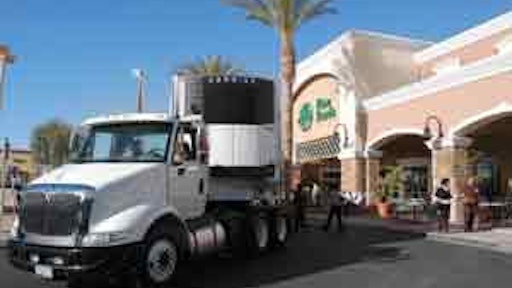 What a difference a few years makes when dealing with transporting perishable food products. Trailer floors today are made of solid aluminum. It wasn't too long ago that trailers had ribbed aluminum floors. Why? So the blood from fresh meat had a place to drip into.
"The solid floors came out three or four years ago because everything now is either packaged or sealed with Cryovac plastic food packaging," says Bill Behrmann, vice president of Madison, IL-based Lancer Distributing, a subsidiary of OH Logistics. "The new floors are a lot more efficient and a lot more solid. They hold the temperature better."
This colorful change is just one example of how the industry is focused on the integrity of the cargo more than ever before. Food safety continues to be a top concern for grocery wholesalers and foodservice distributors. Monitoring the temperature of food in transit and ensuring HACCP regulations are met remain key.
The most common reefers are single-temperature units, where one temperature is maintained for the entire trailer. Multi-temperature systems allow companies to divide the trailer into several compartments. In its simplest form, think of a refrigerator/freezer combination with a compartment for perishable products and another for frozen, such as in a kitchen refrigerator. Depending on the food cargo, more temperature set points may be needed, resulting in three refrigerated compartments, each held to a precisely-controlled temperature.
"Multi-temperature transport refrigeration units offer enhanced food quality and safety by controlling temperature at the optimum level for a variety of products," says Jerry Duppler, product manager, trailers, for Thermo King Corp. in Minneapolis.
Two- and three-compartment systems allow operators to select optimum temperatures for diverse products such as ice cream, fresh produce and bananas—all in the same truck or trailer. These systems have contributed greatly to improved logistics and enhanced food safety and quality control for many companies in the foodservice and food distribution industries."
The new generation of temperature controllers that runs the equipment is much more sophisticated and is much easier for the driver to use, according to Ignacio Aguerrevere, director of marketing and product development for Carrier Transicold, Syracuse, NY.
"We have temperature sensors within the reefers that determine the supply air temperature, the return air temperature. We can also have remote sensors which could be placed wherever the customer decides to place those sensors. All of that information is used for the reefer to determine the operating conditions."
For a number of years, Carrier has offered its Genesis multi-temperature system. The units use conventional mechanical refrigeration technology. Last year, Carrier introduced the Vector 1800MT multi-temperature system which uses a patented Deltek hybrid diesel-electric technology. The system is entirely electric, using a diesel engine to power the generator.
Safety Trends
While basic technologies used in transport refrigeration systems are essentially unchanged over the past five years, according to Thermo King's Duppler, significant developments have occurred in the following areas:
Improved emissions performance of systems and other solutions to address environmental regulations;
Improved fuel efficiency;
Enhanced user interface systems for improved performance and ease of use; and
Expanded use of data collection and data management aimed at enhanced food safety and food product integrity.
"Food safety has been enhanced by the use of microprocessor control systems with increased capability for precise temperature control and data recording systems for documentation of food temperature throughout the distribution chain," he says. "Satellite and other wireless technologies are being employed to monitor food cargo and transmit temperature and operation data throughout the transit cycle."
The major focus now is tracking the temperature of the trailers, according to Lancer's Behrmann. The new units have a tracking device that enable operators to track temperature of the trailer by the hour, by the day, whatever time that unit was running. The most sophisticated trailers now have a GPS system on them that can track location at any time.
"The other trend has been what we call 'temp tails' where shippers now are putting temperature recorders inside boxes" he says. "A distributor like us can't even see them. When we deliver the product, the customer can open the boxes and they can find the temp tail in there. It will tell them what temperature this product's been held at for the last 24, 48 hours, whatever it's been.
"Years ago, if you had a unit go down and the product got warm, there was no way of ever finding it out," he went on to say. "Nowadays, almost everyone checks temperatures on receiving. They didn't before."
Behrmann tells the story of receiving loads of carcass beef years ago from Kansas or Nebraska. It was obvious that some of the cargo had gotten warm, but there was no proof since the units were running correctly. With temperature controllers, these instances of temperature fluctuation can be proven.
"The other thing is that the units today are more sophisticated and a lot more reliable," he says. "We hardly ever have a unit go down."
Carrier Transicold's Aguerrevere agrees, saying, "There's much more intelligence built into the system today in order to run the best conditions to ensure product safety while minimizing operating costs."
Environmental Responsibility
Concern about the environment as it relates to trailers largely deals with controlling emissions and fluorocarbon discharge into the air. For example, reefers from Carrier and others run on non-ozone depleting refrigerant called R4048.
Meanwhile, Thermo King has introduced new technologies and system enhancements in recent years to address environmental responsibility. Examples include EMI 3000 extended maintenance interval, which reduces the amount of disposable waste products such as used engine oil, filters and engine coolant, with the added advantage of lowering the maintenance costs.
Another example of environmental responsibility is the availability of electric standby systems for its truck and trailer refrigeration units. Electronic standby allows the operation of refrigeration units on electric power and eliminates all diesel emissions when units are stationary, such as during loading at distribution centers. Operators have the option to operate on either electric or diesel power to minimize emissions, lower operating costs, and reduce noise.
Thwarting Terrorism
Maintaining proper temperature of perishables in transit is closely related nowadays to concern about terrorism through food tampering. There are safety checks built into the equipment as well as safety procedures to be followed.
For example, all of Thermo King refrigeration units can be equipped with door switches that monitor and record all door openings. This can indicate unintended access to food cargo and thwart tampering. Door switches work in conjunction with a feature that records the time and duration of door openings. This feature can also record temperature throughout the truck or trailer to ensure the integrity of food cargo.
"Also, the sealing of trailers now is a lot more prevalent," says Behrmann. "All trailers that leave any shipping location have to have a seal on them, and they have to be received with the seal. If you do receive a trailer with a broken seal, there are laws that say you have to report them and audit them. These shippers will not let you accept them.
"The other bigger thing is on the product being returned or received," he continued. "If any seals are broken, the product is now destroyed. Years ago, they would send it back and rework them. Those days are over with. That's probably a new practice that has come in because of 9/11."
But whether changes are prompted by concern over terrorism or just a desire for improved safety, the integrity of food in transit has never been better.