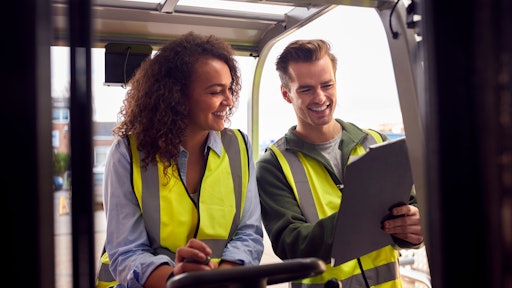 Monkey Business AdobeStock_494483310
Labor shortages continue to impact businesses across all sectors in the United States, and the food and beverage supply chain is no exception. Companies need to seek out alternative solutions to fulfill their operations roles and achieve business objectives. Logistics, transportation, trucking, warehousing and other business processes need labor to be executed, and foreign workers are another crucial resource that companies should consider.
Here's an outline of the benefits of tapping into the global talent pool, the role of the EB-3 visa program in connecting foreign workers with U.S. employers, and why businesses should prioritize investing in foreign workers alongside technological advancements.
The dramatic shortage of workers throughout the U.S.
The United States is currently experiencing a massive labor crunch, with a shortage of almost 10 million workers and unfilled job openings across various industries. In particular, this can be seen in the trucking industry, which needs to hire more than 1 million drivers in the next decade to replace the many aging drivers retiring or preparing to leave the workforce. In the United States, the demand for skilled and unskilled workers outweighs the available domestic talent. Therefore, businesses need to look beyond our borders to recruit workers and maintain economic growth.
Understanding the worldwide talent landscape and capturing the opportunity
As labor shortages persist, businesses should invest in foreign workers to access a diverse pool of talented individuals with unique skills, perspectives, and expertise. By doing so, businesses are promoting greater collaboration and innovation, while filling the immediate labor shortage. It's important to note that talented foreign workers applying for hourly or shift work today are interested in rising through the ranks and being operations decision-makers in the future. Embracing a multicultural workforce can help businesses expand their operations as well, as foreign employees often possess invaluable cultural and linguistic knowledge that are crucial to navigating key geographic markets.
How the EB-3 Visa Program connects foreign workers with U.S. employers
The U.S. government offers the EB-3 visa program to facilitate hiring foreign workers. This program enables U.S. businesses to sponsor foreign nationals for permanent residency in the United States, based on their work experience, skills and education. The EB-3 program consists of three categories:
1. Skilled workers. Individuals with at least two years of job experience or training.
2. Professionals. Individuals with a U.S. bachelor's degree or a foreign equivalent of it.
3. Unskilled workers. Individuals performing unskilled labor with no education or experience requirements.
Leveraging the EB-3 visa program can help businesses to attract highly skilled foreign professionals, and to stay ahead in their markets. It also helps businesses to alleviate pressure on their existing workers by giving them greater support.
The benefits of investing in foreign workers alongside investing in tech
Despite the current focus on technology and automation, human capital remains a crucial element of any thriving organization. Companies must prioritize both people and technology as their sectors evolve. Investing in foreign workers can yield significant benefits for businesses; there are three key reasons why it should be a priority:
1. Addressing labor shortages and improving business resilience. Investing in foreign workers effectively addresses labor shortages and ensures business operations run smoothly, despite the local skills and labor gap. Companies that are experienced in accessing the global talent pool are also more resilient to domestic labor fluctuations.
2. Enhancing creativity and innovation. Including foreign workers with different experiences and backgrounds fosters creativity and innovation in the business' overall workforce. Foreign workers bring new ideas and perspectives, which are invaluable to product development and cutting-edge services.
3. Developing culture and limiting turnover. Foreign workers are more likely to commit to their employers for the long term when they are receiving permanent residency. The EB-3 visa program gives workers a real sense of stability, which fosters job satisfaction and loyalty. In addition, the right onboarding process generates more engagement with the worker. This all results in reduced employee turnover as foreign workers are more dedicated to their employers under the EB-3 program.
Upskilling the immigrant workforce
Businesses in the food and beverage supply chain that want to hang on to their workers need to improve their career development and mentoring programs. Some practical suggestions for how leaders can do better include:
1. Devote more attention to skill building and on-the-job feedback. Encouraging workers to stay and prosper at the company and providing skills training can lead to an increase of institutional and process knowledge within the organization. According to Harvard Business Review, some hourly and low-wage workers said they'd be willing to stay at the same pay level if the employer offered them more skills training (9%) or more responsibility (6%).
2. Take initiative at the top to communicate career development opportunities. Communicate about promoting from within, highlight company leaders that have risen through the ranks, provide success stories, and encourage employees to proactively inquire about opportunities for advancement.
3. Acknowledge that workers are indispensable. With the dramatic shortage of labor, all employees are "essential." Smart companies are learning that treating people as if they're easily replaceable is neither sustainable nor advisable today.
The current labor crunch in the United States brings both challenges and opportunities for businesses. Investing in foreign workers unlocks a wealth of untapped talent that can not only fill immediate labor shortages, but also drives innovation and growth. The EB-3 visa program serves as a bridge that connects US employers with skilled foreign professionals, offering a viable solution to the labor crisis. Furthermore, while automation and technology can improve efficiency and productivity, a diverse workforce that includes foreign workers can unlock business resilience at home and can create opportunities for regional expansion. Companies will be better equipped to thrive if they are open to benefiting from the unique perspectives and skills brought by foreign workers. Finally, efforts to upskill immigrant workers will pay off: absenteeism and turnover will go down as productivity, retention and positive business outcomes go up.