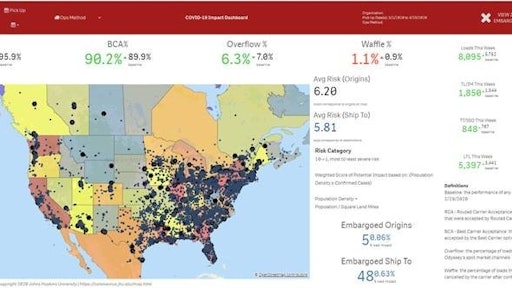 Odyssey
In order to help customers manage the volatility of this global crisis, Odyssey Logistics & Technology has developed and released an interactive technology for its North America Managed Logistics (MLS) customers. The new technology provides visibility into shipments that overlay with geography profiles that present risk; including: COVID-19 hotspots and transportation embargoes. Launched on March 19, 2020 Odyssey customers get actionable data to assess their supply chain risks created by embargoed transportation hot spots—allowing them to act quickly and minimize the operational, economic and safety impacts of these service disruptions.
"Understanding the fluidity of this event, our leadership team strategized the development of a data-driven tool for each of our clients that will provide real-time information specific to their business, quickly identifying changes and trends as a result of the pandemic," said Kevin M. Land, vice president of Global Solutions. "This business application gives our clients the power to make critical service and cost decisions more effectively, in real-time and based on their actual transactional data."
In order to manage the rapidly evolving COVID-19 embargoed hotspots, this newly developed technology integrates real-time COVID-19 data provided by Johns Hopkins University, and other third-party data sources, to track the spread of the pandemic and its impact on transportation. Overlaid with real-time customer shipping activity, the app combines data streams to enable dynamic routing optimization that avoids COVID-19 hotspots and prevents service disruptions created by costly, time-consuming shipping embargoes.