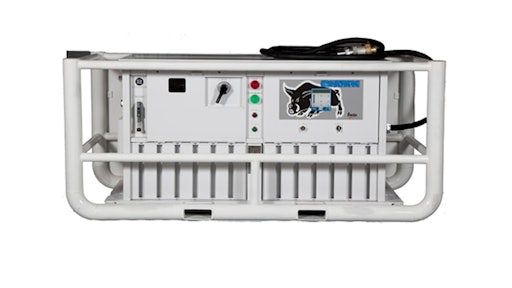 EnerSys
EnerSys featured its virtually maintenance-free NexSys battery solutions at this year's MODEX 2020. The NexSys battery portfolio, including NexSys PURE and NexSys iON batteries, offer warehouse and distribution centers varying technologies, enabling a hybrid power approach to material handling operations.
Engineered with the latest generation of proprietary Thin Plate Pure Lead (TPPL) and advanced Lithium-ion (Li-ion) technologies, both NexSys batteries are designed to deliver simple, more productive, predictable power for a wide range of material handling applications, no matter the size of the operation.
"EnerSys strives to remain at the forefront of innovation to provide our customers with premium motive power solutions that maximize productivity and profitability," said Harold Vanasse, senior director of marketing, Motive Power Americas at EnerSys. "Our suite of advanced NexSys batteries gives operators two dependable choices exclusively tailored to meet and exceed their power demands regardless of the vehicle application. Both battery chemistries can be utilized in different applications in the same facility to achieve an overall lower total cost of ownership."
Optimized for fast- and opportunity-charging, NexSys PURE batteries are ideal for light- to medium-duty applications and are available in a range of capacities and configurations. Featuring a proprietary carbon additive for extended cycle life and increased lifetime energy throughput, the batteries are also equipped with an integrated Battery Management System (BMS) and Wi-iQ battery monitoring device to track various performance metrics, including discharge current, charge current and State of Charge (SOC).
NexSys iON batteries are built to the highest safety, design and manufacturing standards and are an ideal solution for powering heavy duty apps. They are engineered with large format prismatic cells and Nickel Manganese Cobalt (NMC) cell chemistry and the control module in each battery features an integrated BMS that enables communication with the charger and truck for optimum safety and control.
EnerSys also showcased the innovation behind wireless charging with an on-site demonstration. Wireless battery charging systems free up valuable floorspace by eliminating the need for dedicated charging rooms. It can also slash labor demands, as operators will not be required to manually plug or unplug batteries. Instead, lift truck operators will simply drive over a location on the floor where a unit installed beneath it will automatically charge the batter