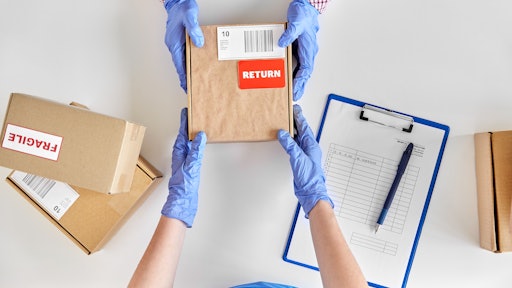 Syda Productions AdobeStock_438375043
Only 19% of retailers have a strategic returns program in place, according to new research from Incisiv, in partnership with Apriss Retail. Yet, shoppers return online purchases 3-4 times more than store-bought purchases.
"Retailers have been quick to embrace digital capabilities but have been slow to address the impact that returns are having on their customer satisfaction and bottom lines," says Amar Mokha, COO of Incisiv. "Our 2023 Omnichannel Returns Index shows that retailers can no longer afford to ignore returns and must take a strategic approach to reducing the cost and complexity associated with returns management."
"The point-of-return is an underutilized customer touchpoint, despite being a pivotal opportunity to preserve shopper satisfaction," says Michele Marvin, VP, Appriss Retail. "When a customer starts a return, it becomes the retailer's job to redirect them toward other products by delivering strategic messaging, promotions, and discounts designed to save the sale. When retailers invest in the returns process, they are guaranteed to see improvements in customer loyalty and profitability."
From BusinessWire:
Most retailers have yet to take a strategic approach to reducing returns and continue to view them as a cost of doing business.

The two retail segments that have the highest adoption of digital returns capabilities are health and beauty and apparel and accessories.

91% of apparel and accessories retailers allow returns to be initiated online;

87% of department store retailers allow returns to be initiated via chat; 79% of health and beauty retailers provide personalized product recommendations; and 78% of consumer electronics retailers allow shoppers to print return labels online.

82% of retailers allow shoppers to return purchases in-store, while only 14% have the capability to schedule return pickup.
100% of retailers have self-help options for navigating returns, but only 2% provide the option to return purchases curbside.