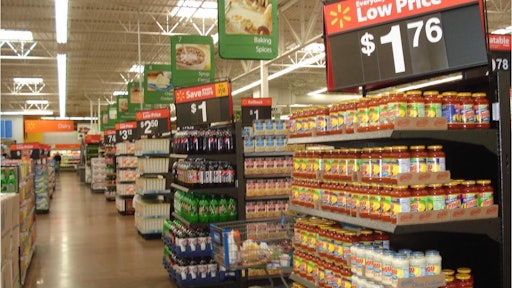 Wal-Mart is lowering prices in at least 1,200 stores to turn up the competition with Amazon.com and with grocery chains like Aldi and Kroger. The Wall Street Journal recently reported that Wal-Mart is defending their low-cost reputation and extending the longest food-price decline in decades.
The price test is rolling out in 11 Midwestern and Southeastern states like Illinois, Iowa, Kansas, Indiana, Kentucky, Virginia, North Carolina, South Carolina, Georgia and Florida. The company is trying to find the right price point to attract more shoppers. The grocery business accounts for 56 percent of the company's revenue.
Reuters reports that the retailer demanded vendors reduce costs by 15 percent in meetings held last week in Bentonville, Arkansas. Wal-Mart expects suppliers like Procter & Gamble, Johnson & Johnson and Kraft Heinz to beat rivals in pricing 80 percent of the time.
More information on this trend can be found HERE.