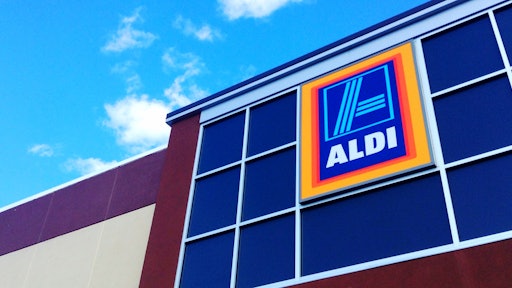 Mike Mozart of TheToyChannel and JeepersMedia on YouTube
Aldi, a German-based supermarket chain, has long held a reputation as an inexpensive alternative, offering discounted or low-quality goods. But as consumer demands continue to shift, it too is rethinking its ways.
While the shopping carts still require a returnable quarter deposit and grocery bags still cost extra, Minneapolis' Star Tribune reports Aldi will start offering featured items similar to those seen at its sister store Trader Joe's or Amazon's Whole Foods.
"The continued success of our store expansion and remodel initiatives have given us the opportunity to carefully select and introduce new products that satisfy our customers' increasing preferences for fresh items, including organic meats, salad bowls, sliced fruits and gourmet cheeses," said Jason Hart, CEO of Aldi U.S., in a statement.
More items—from marinated cilantro lime chicken breasts and ready-to-eat sliced mango, pineapple and watermelon spears to organic produce and chicken—will be on the shelves in remodeled stores in Minnesota in the next two weeks, the Star Tribune reports. And the refrigerated sections will expand to include more grab-and-go foods, including single-serve guacamole and organic hummus, fresh fruit and veggie snack packs.