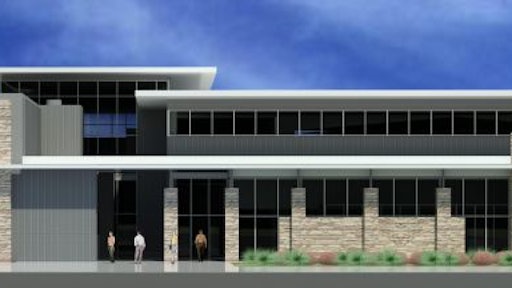 Thanks to a substantial gift from one of the world's leading global food companies, JBS USA, Colorado State University has begun construction on the JBS Global Food Innovation Center in Honor of Gary & Kay Smith, a new $15 million facility that will advance best practices in food safety, meat sciences and animal handling and welfare.
The state-of-the-art facility will enrich CSU's teaching and research in meat sciences, as well as offer a space for industry collaboration through continuing education and training, equipment development and testing, and a place to engage in meaningful dialogue to advance the animal agriculture industry. Students will learn about meat processing in a hands-on environment that is not currently available in existing CSU facilities.
JBS has entered into a strategic partnership with Colorado State University that is currently valued at $12.5 million. This unique partnership includes a $7.5 million philanthropic contribution to build the JBS Global Food Innovation Center at the university and an employee educational programming investment valued at $5 million.
"We have had a long-standing research and academic partnership with JBS, and this gift will allow us to cement that relationship for years to come," said Ajay Menon, dean of CSU's College of Agricultural Sciences. "This facility is designed to provide our students with the hands-on experiences that will position them for careers in industry and academia, especially as they work alongside faculty members who are producing innovations in food safety, food security, and animal welfare."
"The JBS gift to Colorado State University is an investment in the future competitiveness of food and farming in the state of Colorado and across the United States," said Wesley Batista, Global CEO of JBS. "JBS is a people-focused company, which means that empowering and creating opportunities for young people is at the heart of our culture. We envision this facility as a place that will allow the best and brightest CSU students to innovate, discover and explore as they prepare for future careers in the industry."
Professor Emeritus Gary Smith, who, along with his late wife Kay, are honored in the naming of the building, held one of CSU's oldest endowed chairs, the Monfort Chair, and spent more than 20 years as a professor in CSU's Department of Animal Sciences. Smith, a world-renowned expert in meat science and food safety, is a University Distinguished Professor Emeritus and serves as a visiting professor of animal sciences and special advisor to CSU President Tony Frank. The agricultural industry has long relied on Smith's expertise and innovations in food safety.
For decades, CSU's Meat Sciences program has played a leading role in advising industry and producing innovations that have helped ensure meat products are safe and secure. For example, the new facility will have spaces dedicated to testing packaging and developing food products, reflecting the fact that ready-to-eat foods and packaging is a growing area within the meat industry. Additionally, the new building will have a culinary kitchen and demonstration area as well as a retail meat and dairy store with a café.
The facility will also include an educational space designed by CSU professor Temple Grandin, where students will learn about animal handling and welfare in a hands-on setting. Led by Grandin, a world-renowned professor of animal sciences and animal welfare expert, CSU has played a leading role in enhancements to animal handling and well-being.
Training the next generation of dynamic food and agricultural leaders
"Many of our most promising young team members come to JBS from Colorado State University," said Andre Nogueira, CEO of JBS USA. "While we enjoy a global presence, the location of our North American headquarters in Greeley makes Colorado a special place for our company. The innovation and education that will take place in this new facility will help to train the next generation of dynamic food and agricultural leaders in Colorado and across the nation."
"This remarkable gift solidifies the longstanding partnership that CSU and JBS have built over the years," said Brett Anderson, vice president for University Advancement. "It helps us create a platform to deliver the world's leading science and education in food, food systems, and food safety. It allows CSU to continue to pursue excellence and innovation in agriculture and prepare future industry leaders."