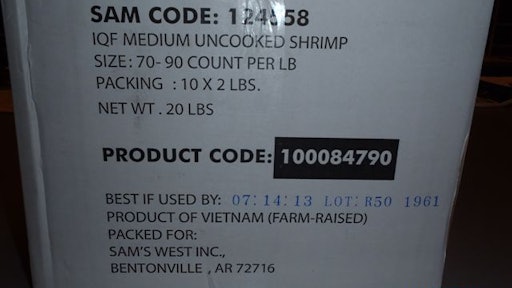 Chicago: Preferred Freezer Services (PFS) has offered a five thousand dollar ($5,000) reward for the information that leads to an arrest in response to a container of stolen shrimp that was hijacked on Saturday, September 10th.
Container number OOLU 617078-4 carrying 1,750 cases of 10-2lb bags weighing 35,000 pounds of 71-90 P&D Tail-Off White Vannamei Shrimp went missing on Saturday morning on the west side of Chicago near Pilsen.
Each twenty pound case contains 10 two pound bags of Member's Mark brand medium sized un-cooked shrimp.
Preferred Freezer Services and their client partners are aware of the growing theft problem within the cold chain industry. When working together, all aspects of security can be executed within a timely manner. PFS is offering the reward and assisting their customer by alerting the entire industry with pertinent product information.
Any information regarding the specific load can be emailed to Julius Heil at jheil@pfsl.com or by calling 973-820-4040. All information will be held strictly confidential.