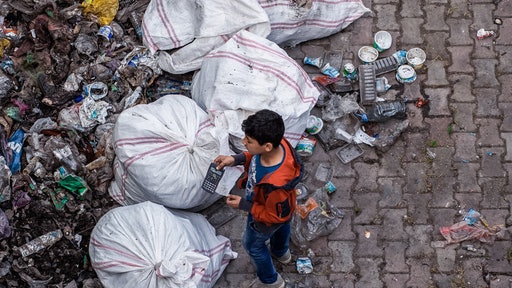 Pexels
As we continue to navigate today's challenges, emphasis on logistical and operational efficiency is of the utmost importance, and finding ways to optimize day-to-day processes is key for making operations more efficient. One area often overlooked but can reveal some cost-savings opportunities and operational efficiencies is waste and recycling management. Without a strategic waste management plan in place, the supply chain would not be able to operate with the expansive efficiencies necessary to keep up with global demand.
Waste management programs within supply chains can be elevated by observing industry trends and taking advantage of expert insight. The industry has been focusing on more opportunities to reuse and recycle waste materials and reduce the amount of waste sent to landfills. The waste generated through supply chains correlates with the type of operations and customers that are in place, such as freight transport and handling and warehouse/distribution operations. This will factor into the type of equipment used at the facility, the volume of waste and recycling material generated and staff resources required to manage the disposal process. In recent years, the industry has made strategic moves to focus on reducing CO2 emissions—contributing to their sustainability mission through both their material input and waste output. Waste management programs can be tailored to specific organizational needs through customizations such as real-time data reporting and remote monitoring systems to better support sustainability goals. A personalized program can provide transparent data at your fingertips that will lend itself to cost-improvement strategies, streamlined invoicing and eliminated equipment headaches.
Examining the waste streams at your facilities can directly uncover program optimization opportunities based on the equipment you have on-site, the frequency of hauls at each location and other distinct factors that set organizations within the industry apart. Every organization is going to have a different waste management program based on type of operations, size of location and number of dock doors and employees, among other distinctions. The reality of any waste and recycling program is that needs are going to be impacted by key moments in time or seasonal surges. If an organization is considering multiple options in evaluating different waste management programs that will benefit their operations, they should first conduct a waste audit to provide a better understanding of the facility waste characterization. After a waste audit is completed, recommendations can be provided to best suit the organization and to make progress toward sustainability goals. Additional evaluations will be completed to identify current equipment, evaluate new equipment needs, determine volume and logistics for recycling commodities and pinpoint future opportunity for right sizing.
Technology-enabled waste management programs may be the best bet when it comes to optimizing efficiency in the day-to-day operations of supply chain organizations. The industry has faced several challenges and is in increasingly high demand. Transportation and logistics businesses are looking to increase their efficiencies, lower costs and improve production rates. Implementing a tech-enabled waste management program will provide monitoring and analytics to deliver more visibility into waste and recycling programs. Regular reporting is a critical component to ensure your waste program is running optimally. Many companies still evaluate their waste program reports and spend manually, which can be very time consuming. Facility operators will not have to monitor equipment, as the technology will provide real-time data and historical reporting—allocating more focus and attention on improving production and increasing efficiencies. Using technology will also uncover potential cost savings opportunities, resulting in a lower cost for waste and recycling programs and allowing the funds saved to go toward improving other inefficiencies.
As environmental, social and governance (ESG) becomes more a part of conducting business, it's important for companies in the supply chain to have set sustainability goals to help impact climate change. Developing a strong technology-enabled waste management program can allow companies to work toward their sustainability goals through implementing closed-loop programs when possible. Closed-loop programs are put in place so all waste byproducts can be repurposed and given a new use in another form. Everything is either repaired, reused or recycled. For example, wooden pallets may accumulate and pile up if not properly handled. Having an established waste program in place can divert those wooden pallets to the correct facility, where they can be converted into another product, such as being broken down into mulch chips and given a second life. Closed-loop programs allow supply chain operations to run smoothly and comply with anticipated ESG mandates.
Having established lines of communication with waste and recycling management partners will enable operations to ensure continuous success now and into the future. With a combination of the right waste and recycling provider in place and using technology and advanced reporting, supply chain operators can turn their attention back to other critical areas of the business while knowing their waste and recycling program is running as efficiently and cost-effectively as possible.