**Content brought to you in partnership with Sunlight**
Over the past two years the materials handling market has seen some turbulence. Currently, the sector's biggest challenge is disruption to global supply chains. In the US, as in other countries, the industry was already facing issues due to Covid-19 and labor shortages. And this is now compounded by the Russia-Ukraine war.
Logistics challenges have brought into sharp focus the need for long-term localization of supply chains and reverting to vertical integration is increasingly viewed as an effective mitigation strategy. Recognizing these challenges, Sunlight Group has announced a $150 million investment roadmap in the US market. It includes expanding its plant in Greensboro, North Carolina, and tripling the unit's capacity for assembly, to meet increased demand. The new plant, which opened last year, will better serve US customers, and strengthen Sunlight Group's American presence.
New opportunities
Resilient organizations have recognized and embraced one huge opportunity that is easy to integrate and helps curb supply chain issues: technology. The pandemic reinforced the value of Industry 4.0, which emerged as a key driver of efficient supply chains.
Industry 4.0 includes connectivity, automation, and advanced-manufacturing technologies and is helping companies transform their operations. Improvements in speed to market and service effectiveness allows them to identify and apply more productive business models.
The past two years have seen a rising demand for Industry 4.0 technologies. According to a recent study by McKinsey, 94 per cent of respondents said that Industry 4.0 tools helped them keep their operations running during the crisis, and 56 per cent stated that said technologies had been critical to their crisis responses. Organizations which hadn't scaled Industry 4.0 use prior to Covid-19, on the other hand, were found to have struggled, in the absence of digital technologies to support them.
Accordingly, governments around the world have increasingly recognised that investments in manufacturing infrastructure is imperative to drive innovation, promote growth, improve GDP and navigate the many and varied disruptions to supply chains.
Innovation at

Sunlight

Group
Customer needs are changing and ever-evolving. To accommodate them, Sunlight Group is investing heavily in automation, technology, and operational excellence, with a particular focus on R&D, Industry 4.0 principles and tools. The company is implementing a $115 million R&D investment that focuses on innovative lithium technologies – a program that will develop high-end products, capable of meeting industry demands.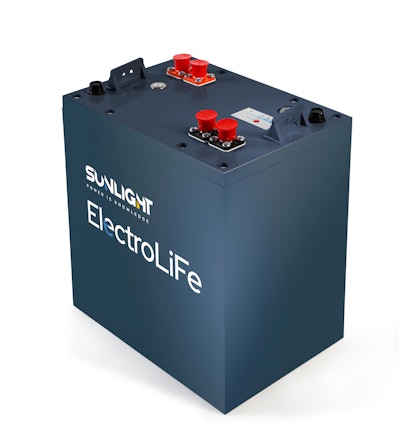 To that effect, Sunlight has also expanded its lithium-ion product range to include a new, lightweight semi-traction lithium battery, Sunlight ElectroLife. ElectroLife offers connectivity to GLocal, Sunlight Group's cloud-based platform which uses AI to record, in real-time, key parameters regarding the operation of the battery. Connection to the GLocal platform provides remote monitoring and servicing, which results in significant time and cost savings.
The innovative design of Sunlight ElectroLife allows for tool-less, plug & play installation in manufacturing and light commercial vehicle applications. Its high energy density and fast charging times helps reduce idle downtime of industrial applications and ensures maximum productivity. ElectroLife's extended lifespan offers more than 2,000 charging cycles and this longevity means less time is spent on maintenance and replacements.
Sunlight Group is also responding to changing demands and requirements in the material handling and logistics industry, as well as the diversity of applications of modern forklifts and trucks, with its Li.ON FORCE power range. Sunlight Li.ON FORCE batteries demonstrate Sunlight Group's expertise in lithium-ion technologies, via an innovative product designed to operate effectively in extreme conditions for longer periods of time.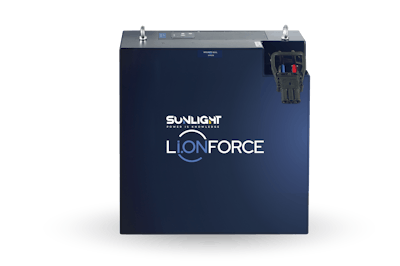 Alongside product development, Sunlight Group is taking steps to ensure its offerings meet the highest quality standards and contribute to improving sustainability targets in the energy storage sector. The company recently achieved Underwriters Laboratories (UL) certification for its Li.ON FORCE range. In addition, a total of $11 million has been invested in Sunlight's Testing & Certification lab, which is forming its operation towards IEC/ISO 17025 accreditation.
By doubling down on commitments to new technology and focusing on local supply chains, companies can overcome relevant global challenges and may even find themselves in a better position than ever before.
To learn more about Sunlight, click here: https://www.systems-sunlight.com/