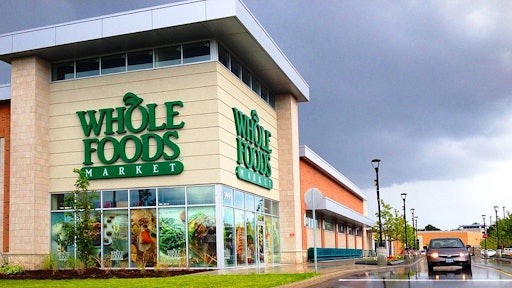 Wal-Mart could step in as a rival bidder for Whole Foods Market, JPMorgan analysts said, as shares of the grocery chain rose above the $42 price offered by Amazon earlier this month.
JPMorgan research analysts said in a note Thursday that Wal-Mart could be drawn to Whole Foods for its relatively wealthier customers and strong brand, not to mention the chance to thwart Amazon's ambitions. It is in a better position than other retailers such as Kroger, Costco or Target coming in over the top, the analysts said.
"We do think there is a chance that Walmart makes a bid," the report said. "WMT stands out as the only company in our coverage with the means and motive to counterbid, but the motive is ultimately more driven by a defensive strategy."
The note was written by JPMorgan analysts Ken Goldman, Chris Horvers and Doug Anmuth. Whole Foods Market shares closed at $43.26 Wednesday.

The analysts said if Wal-Mart does bid for Whole Foods it is unlikely to win "given Amazon's war chest of cash/stock and the value of the WFM platform to Amazon." Wal-Mart already has more than 20 percent market share of the grocery business, so Whole Foods isn't as strategically important to the retailer as it is for Amazon, they said.

Read the entire CNBC article HERE.