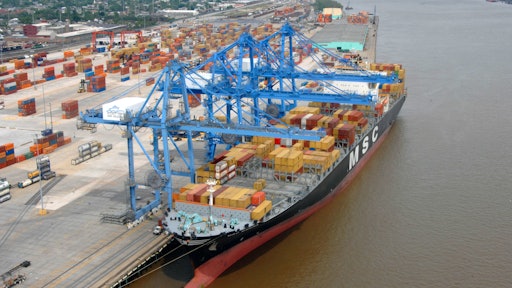 The container shipping industry saw a sea of change in 2016: One operator went under, mergers and acquisitions (M&As) pared the number of alliances from four to three, carriers further consolidated increasing risk profiles in shipping supply chains, and ship capacities escalated with more Triple Es (ships capable of carrying more than 18,000 TEUs) crossing the ocean.
As the industry wrestles with the aftershocks of 2016, Lars Jensen, CEO and partner of SeaIntelligence Consulting, which provides market intelligence to the container shipping industry, predicts the oceans of change will continue well into 2020, when he suggests there won't be 20 global carriers but rather six to eight.
"We are down to 11, so we are well on our way," Jensen says. "But, most of the M&A activity is done—for now. The next M&A activity won't happen for three to four years; and that's for the major global carriers."
What will happen now is integration, that is, phasing in the new alliances--2M, Ocean Alliance and THE Alliance, which comprise 11 shipping operators, Jensen says, who points out that any time carriers integrate, there is risk of something going wrong, either in the raw processes or the computer systems, which would negatively impact shippers. That's where questions remain, he says, and the outlook appears uncertain.
On the surface, these changes appear a logical outcome in an industry plagued by overcapacity and sluggish global trade, the arrival of more deeply interconnected container shipping networks has some industry pundits worried about the outcome of what they view as a concentration of power. Their top concerns include price fixing and increased rates, reduced services, limited choice, and continued port congestion as fewer ports are used to handle ever-larger ships.
What is certain, Jensen says, is there won't be less capacity. "The alliances, as such, do not change the global supply and demand picture. There are still the same number of ships in the world as there was before," he says.
He also suggests shippers' dire predictions will not come to pass. "When you get a higher degree of consolidation, shippers might fear there will be less choice and it will have an impact on pricing, but the impact on pricing will be determined by the global supply and demand balance, and that will remain in the shippers' favor for several more years," he says. "And, if you have major carriers that unilaterally decide to reduce capacity, while that would make freight rates go up, it would also open up the market for new entrants to come in, so I wouldn't worry about that one."
Likewise, if price gauging or service reductions arise, protections are in place to stop this in its tracks. "We have a monitoring process in place, and if there is an unreasonable increase in prices or decrease in services, it could lead to an injunction that could break up an alliance or lead to other necessary action," William Doyle, a commissioner at the U.S. Federal Maritime Commission, recently told the Wall Street Journal.
All that being said, Jensen says freight rates "should go up." He explains that in 2016, carriers have been heavily loss-making. While that has been nice for shippers, who have been saving money on their freight bills, he says it is not sustainable. "If shippers are interested in a stable supply chain, carriers have to make money. If we see freight rates going up, we cannot just attribute that to the alliances and the effects of consolidation. Even if we had no M&A activity in 2016, we would still need to see some elevation in freight rates to bring the industry back to positive levels."
Limiting Choice?
There are some who worry that consolidating into three alliances and using megaships to deliver cargo, while total capacity remains the same, will reduce sailings. And, the stage certainly appears to be set to sail in that direction, with cargo owners reporting 20 percent fewer containership sailings across major trade routes and a 10 percent drop in port calls since Triple Es took to the ocean.
Here, Jensen also puts forth a differing point of view. "Going from four alliances to three might actually give shippers more choice, not less," he says.
He explains that it's all about scale, and that scale does not just cover the size of the vessel. Rather, it also involves how wide a network a carrier has. "If I'm just one carrier and I have one service on the Trans-Pacific, there is a very limited number of ports I can call at either end," he says. "I will have to do a transshipment which is not favored by any of the shippers."
But if two carriers decide to join forces and merge their services, while they will still have two services, they can now cover a wider array of port pairs between the two. "Having an alliance of two carriers, with one service each, provides more choice for shippers not less," he explains. "And, if we look at the preliminary networks that have started to come out, that is exactly the effect we are seeing. When designing these networks there is an increased emphasis on getting more direct port coverage."
Maersk Line Strategic Communications Manager Katherine Mosquera echoes Jensen's sentiments—at least where Maersk Line is concerned. "While we cannot speak for the industry, we can say that our customers, not least reefer customers, would benefit from our most recent acquisition. They would benefit from unmatched transit times and port coverage in Latin America and Hamburg Süd customers will gain access to Maersk Line's second-to-none global network. This acquisition supports our growth strategy and our ambitions in the North-South trades."
She adds, "The majority of the efficiencies we expect to gain will come from a more effective use of the combined network, which will provide exciting opportunities to develop new competitive products and leverage operational strategies."
In the wake of the Hanjin shipping crisis, there is also concern about which carriers are safe to ship on. THE Alliance is already addressing this concern by developing a structure that guarantees if one alliance member goes under, the other alliance members will pool money to make sure vessels are still operating and cargo is not stranded.
"A lot of carriers learned their lesson," Jensen says. "When you collaborate with somebody, there is risk and you need a backup plan."
Port impacts, at least insofar as the Port of New Orleans is concerned, will be positive, not negative, predicts Janine Mansour, commercial director for the Port of New Orleans, which has as its top export, poultry; and as its top import, coffee, bananas and fresh produce coming in from Central and South America. "We actually fared really well in all the changes with the mergers and then the alliances. We have had calls announced by all of the major alliances, but one of the most exciting announcements of 2017 is that we have a new direct Asia service with CMA CGM Group, and that service will become an Ocean Alliance service."
Renewed Technology Push
Temperature and traceability go hand in hand in a tougher legal environment brought forth by the adoption of the Food Safety Modernization Act (FSMA). In this arena, shippers will be held liable for compliance, and cold chain visibility and chain of custody data will increase in importance.
As the knowledge of where cargo is at and the temperatures it's being maintained at becomes a necessary part of doing business, the use of machine-to-machine (M2M) telematics and sensors will become more commonplace. M2M will help container assets, cargo and shipments make the move from "dark, dumb and disconnected" to "visible, smart and connected," according to a ORBCOMM white paper titled, "Transforming Container Supply Chains with M2M and IoT Connectivity."
Jensen predicts carriers will now invest in technological solutions to remotely monitor and control reefer boxes, and GSM (Global System for Mobile communication)-enabled ships will enable them to watch over M2M-equipped reefer boxes at sea.
"The carriers will try to improve services, not just for food products, but for all types of products," Jensen says. "As container services have become commoditized, they have been forced to look at what they can do to improve service. This has meant technology development in every way, shape or form."
Technology, he says, can be used to automate the shipment itself, and the paperwork that goes with it, but it can also help address the what if's of something going wrong. "If you ship thousands of reefer boxes a year, there will be something that goes wrong. There may be equipment malfunctions or ships out on delay, and a whole range of things that are outside a shippers' control," he says. "One way carriers will try to different themselves is not just on the automation but on the exception handling."
One of the trends, Jensen sees picking up steam is "allowing shippers to monitor their cargo in real time and taking precautions if something goes wrong along the way."
Mansour agrees, noting that real-time monitoring of containers is an area where she is seeing "a lot of investment." She notes MSC and CMA CGM have invested in new technology for monitoring refrigerated containers, and adds, "that's a trend that we are working on too in terms of making it easier for shippers to track their containers by working with our terminal operators to make it possible for a customer to log in, put in their container number and see the location of it, and then hopefully in the near future, they'll also be able to see the temperature inside the container and other variables they want to monitor."
Maersk Line expects technology to further advance with its recent acquisition. The company, which has more than 80 years of experience shipping fresh produce, offers a modern reefer fleet equipped with the technology customers need to monitor their cargo. "Since investing in 14,800 new units last year, the [average] age of our reefer fleet has dropped to 7.9 years, more than four years younger than the industry average," says Mosquera. "We have also invested in a number of programs to enhance cargo care for our customers. StarCare for example allows Maersk Line to maintain the correct blend of oxygen and carbon dioxide within refrigerated containers, which is vital for some fruits to reach further markets by extending the shelf life of the fruit. Another one of our new developments provides data on container conditions including its location, humidity, air supply and other measurements."
The good news is that technology adoption is cheaper as carriers become larger, so technology changes along the lines of what Maersk Line is doing will likely continue. "The cost of developing new information technology tools, such as remote monitoring is the same, whether you are a big or a small carrier. That means the marginal costs of doing this are going down as the carriers become larger."
Ports, like New Orleans, are already investing in technology and updates to attract new business from the alliances, adds Mansour. The port, which is 45 feet deep at the container terminal and is currently working with the U.S. Army Corps of Engineers to go 50 feet in the Mississippi River, can handle close to a 10,000 TEU ship, she says, noting "we feel like the 10,000 TEU ship is going to be the workhorse vessel for a lot of services calling the Gulf."
The Port of New Orleans also spent $8 million to add 450 new refrigerated reefer plugs to beef up its reefer plug capacity at the terminal. They work closely with the U.S. Department of Agriculture and fumigation companies as well as U.S. Customs and Border Protection to make sure inspection services are readily available at the container terminal or very close to it.
Changes abound as the shipping industry ebbs and flows with the tides of change. But while the outlook appears uncertain, it is largely agreed that the end result will likely be better than ever in terms of improved reliability, better cargo monitoring and increased food freshness.