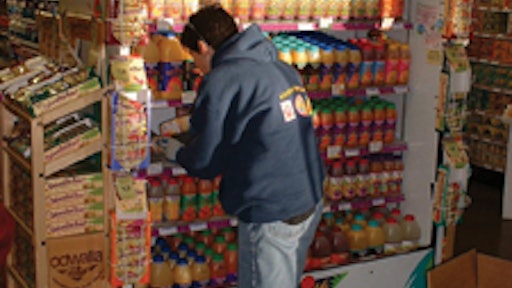 Wouldn't it be efficient if product manufacturers routinely synchronized data with trading partners to improve warehouse productivity and freight efficiencies, as well as increase speed to market for new item launches?
Well, there is real progress toward those goals by makers and distributors of fast-moving consumer goods. Wegmans Food Markets and The Coca-Cola Co. are among a handful of national leaders leading the way to data synchronization. Supervalu Inc. is synchronizing supply chain data with hundreds of suppliers using the 1SYNC data pool via the Global Data Synchronization Network (GDSN).
Global Data Synchronization (GDS) is the foundational framework to share data between manufacturers and retailers. It is an automated process that allows trading partners to agree on product characteristics such as description, quantity and size, to name a few. This technology allows the manual processes of ordering, shipping, invoicing and maintenance to be reduced or eliminated. Thus, inefficiencies and costs are driven down considerably. Most importantly, GDS is about people and processes collaborating to form an integrated value chain.
GDSN handles the synchronization of product data for more than 5,000 trading partners with the vast majority being product manufacturers. 1SYNC, Lawrenceville, NJ, a subsidiary of GS1 US, was formed by the merger of Transora and UCCnet. It offers several solutions designed to eliminate costly data errors, increase supply chain efficiencies, and provide a foundation for the implementation of next-generation technologies, such as the Electronic Product Code/Radio Frequency Identification (EPC/RFID).
What is the current state of affairs for GDS and supply chain management throughout the grocery industry?
"The best news is that the validation and support for this effort has been well documented and the list of companies seeing success continues to grow," says Tom Duffy of TDLinx, a Nielsen division based in Wilton, CT. "In addition, the market has seen the value of leveraging the investments in a blend of both industry standards for trading partner-to-trading partner collaboration and existing proprietary solutions behind firewalls to drive the progress."
Duffy believes that those lines may have been blurred in the past. But from a content perspective, new clarity has evolved over the last few years to drive a model that leverages the use of clean, accurate "master data" with methodologies that deliver maintenance and scale.
"As actual demand is communicated out to vendors, forecasting accuracy improves and stock-outs are more quickly identified and dealt with," explains Chad Symens, president and CEO of Ohio-based Rainmaker Data Warehousing. "The bottom line is increased sales for both the retailer and vendor as fewer and fewer out-of-stock situations are encountered."
Vendors that are provided with more detailed activity data, he adds, are better able to understand customer's preferences and then incorporate that knowledge into future product decisions.
Data Accuracy Is Key
North American manufacturers have loaded product master data accounting for over 71 percent of sales in certified data pools with an average of over 32 percent of sales being synchronized with trading partners. Although that number is nowhere near ideal, there is a significant movement of trading partners understanding the value of data synchronization in their collaboration efforts.
For example, improved accuracy of weights and measure can increase the speed and efficiency of moving products in a distribution center. Instead of transactions slowing down for necessary data corrections at various points, products can flow faster, thus reducing inbound and outbound transportation costs.
Data synchronization can improve scan rates and provide more accurate inventory counts, as well as reduce errors and correction processes. Visibility to inventory and reduced error overheads will reduce costs. Rory Granros, director of industry and product marketing for process industries at Infor Global Solutions, Alpharetta, GA, believes that to achieve proposed inventory throughput, a combination of GDS, RFID and applications that support functions like cross-docking will speed inventory through distribution centers.
"Not only can products flow faster, but trucks can have a higher utilization level," says Pam Stegeman, vice president of supply chain and technology at the Grocery Manufacturers Association, Washington. "One retailer I know used to plan trucks to 70 percent capacity because of inaccuracies in weights. Now they know the information they have is accurate and up to date, and therefore they can fill trucks to a higher capacity."
GDS proponents have stressed that the key to synchronization is data accuracy. Unless CPG manufacturers ensure that their product data accurately reflects the physical attributes of their products, the benefits of data synchronization will be lost.
"Data accuracy continues to be one of the most significant barriers to demand planning," says Symens of Rainmaker. He went on to explain how many retailers are providing inaccurate on-hand information in their activity files to vendors. If a vendor cannot rely upon the on-hand data they are receiving, there exists a significant gap in their decision-making toolkit.
Duffy of TDLinx agrees. "Unless a data accuracy methodology is developed that addresses the requirements of the market, you are looking at a scenario of exchanging bad data faster."
That is why the emphasis for the last several years has been on improving data accuracy. Most of the resources spent have been in this area. This has entailed cleaning up files and file structures and learning what and how to manage both within and between organizations.
"That is the foundation effort for moving forward," says Matt Pannier, managing director of AlixPartners, New York. "These investment activities—while not always easy to justify—are critical to the ultimate success of the data synchronization initiative."
At first, many CPG companies were focused solely on gathering all the attributes/data elements required to synchronize with retailers, as well as determining how the information would securely get from CPG to retailer. As those goals have been realized, CPGs have now turned their attention to building internal processes starting with the point of new product innovation all the way through to execution in the store.
"That is key to the success of data synchronization and we also believe that is what will allow the industry to achieve the highest level of benefits both inside their organizations and with their partners," says Ann Dozier, vice president, strategic industry initiatives, for The Coca-Cola Co., Atlanta.
Endless Opportunities
What's next for data synchronization and supply chain management? Executives polled by Food Logistics came up with several predictions.
"Data synchronization is the beginning of a greater level of automated data sharing," says Stegeman of GMA. She sees the industry realizing that in order to grow the top-line and better meet rapidly changing consumer needs, communications must be improved, demand data must be readily shared and emerging technologies must be fully leveraged.
"We must achieve mass adoption as an industry and continue to evolve the information shared from basic information to more advanced transactions," says Duffy of TDLinx. "This will allow us to achieve the highest level of supply chain efficiency and effectiveness and will allow us to leverage information to grow sales."
Dozier of Coca-Cola was also enthusiastic about the possibilities. "If we can get a good foundation of data in place, the opportunities are limitless to collaborate to achieve the highest level of supply chain efficiency and effectiveness."
For instance, price synchronization can eliminate the need for invoices, allowing retailers to pay for the information they have when they receive goods at the store. Also, the technology will allow more efficient receiving, creating collaborative partnerships to analyze activities and improve the supply chain.
"The ultimate goal will be to have the right product, in the right place, at the right time, in the right quantity, for the right price," she says.
The next phase of data synchronization will see more direct collaboration between the buyer and vendor, according to Symens of Rainmaker. He says the primary objectives will be to monitor sell-through and on-hand for the top items in a given category for each vendor. A simple scorecard and exception-based analysis tools should be agreed upon between the retailer and the vendor to achieve the full benefits of this model.
"As soon as item synchronization enables data pool interoperability, we will begin to see successful synchronization to other aspects like supply chain, customer relationship management and supplier relationship management," says George Taylor, director of consumer packaged good-manufacturing for Microsoft Corp., Redmond, WA.
"However," Taylor notes, "this is not something that can be turned on like a switch. It will take a lot of effort internally, with retailers and standards bodies. This is a long-term process that merits continued benchmarking and investment."