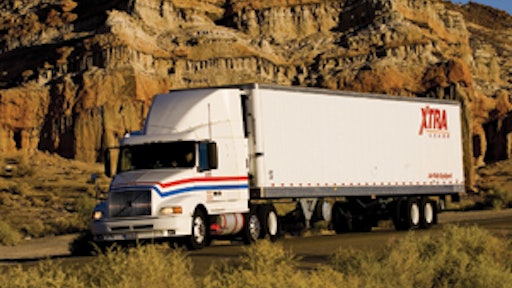 The trend towards leasing dry and refrigerated trailers continues to grow in the food and beverage industries. Leasing experts recommend that companies begin by doing some serious self-evaluation before signing any contract. The consensus is that a leasing company should work with its customer to determine what equipment they require to accomplish their goals.
"We try to uncover what the need is," says Scott Nelson, senior vice president of leasing solutions and business development for GE Trailer Fleet Services, Wayne, PA. "You go forward with a degree of certainty that you have a need for that equipment."
"Companies need to ask themselves what they require for equipment," says Rick Adams, president of PLM Trailer Leasing, a Montvale, NJ, provider of refrigerated trailer solutions. "If their business model hasn't changed, they may only need 53-foot reefers well into the future. But if they're in a logistics business where they go from multi-temps to single temps to dry vans-where it's a constant change-they need to look at how flexible a lease can be."
He says customers should consider what their equipment needs are today as well as the future. The leasing company they choose should provide a lease that will work with them to meet those changing needs.
"If the customer has a six-year lease and their needs change during that period, in most instances we're flexible enough to go in and swap out equipment," says Adams.
Equipment Concerns
Once a customer determines its needs, its should determine whether or not a leasing company can meet its requirements.
"They should look for an operator that has the type of equipment that is spec'd to operate as efficiently as possible," says Dale Frank, national sales manager, temperature controlled products for Xtra Lease, a St. Louis over-the-road trailer rental and leasing company. "One that not only has the reefer that's spec'd to help control air temperature and maximize efficiency, but also optimize airflow.
"We try to make sure that we do a thorough job upfront of consulting with people. We talk first about what they're going to put in the trailer, what temperature they're going to transport it at, how long it's going to be in that trailer and how long the shelf life should be on the other end."
Don't forget to factor backhauling into the equation. "Quite often a company from the Midwest might take beef to California and bring produce back," Frank explains. "We would want to know such information so we could set up the trailer the correct way for the specific characteristics of the commodity. Lettuce is a lot different than a load of beef."
He says that the failure to set a trailer up properly could cost a company a great deal of money in extra fuel and more maintenance for a refrigeration unit, as companies pay hourly maintenance fees for the operation of a reefer. "By being able to customize trailer operation to the commodity, you're going to ensure that commodity gets to its destination in good condition and the shelf life is better," says Frank.
Multi-temp trailers are gaining in popularity, according to Adriano Mallozo, vice president of industry sales, food and beverage, for Ryder System Inc., Miami. "Multi-temps divide trailers into two or three compartments-dry, refrigerated and frozen. So instead of sending separate dry and refrigerated trucks to a single stop, these companies are loading three compartments in one trailer and increasing their utilization because they're able to make one stop."
In addition to the multi-temp trailers, Ryder is also leasing out custom spec'd flat floor grocery trailers. Flat floors provide greater stability for the loading of pallets into a truck. Leasing companies should be able to step up and provide these and other custom trailers, such as ribbed floor trailers, which allow chilled air to circulate better within a trailer.
Customers should also ask if leasing companies have flex capacity. Are they prepared to meet increased demand for equipment during such peak periods for the food industry as the Fourth of July weekend?
"We maintain a large trailer pool rental fleet. Because of this, we are able to provide our customers with extra trailers, via rental, during peak demands," Mallozo confirms.
Finding The Best Deal
After customers ascertain what their equipment needs are, the next thing they need to focus on is what type of lease suits them best.
"It gets back to what the customer requires," says Xtra Lease's Frank. "You can't really say you need a five-year lease or you need a one-year lease without trying to do an analysis of what their needs are."
Companies have to ask themselves what they're trying to accomplish with a potential lease. Are they trying to get new business, but don't actually have the capital to buy new trailers in order to support the extra business? How long do they envision they will need the leased trailers for?
"Maybe I've picked up a new account and I only have a contract for a year," says Frank. "I don't know if he'll renew, so I don't want to go out and buy equipment or lease it longer than a one-year term."
The most common type of lease in the industry is what is known as a full service lease. In this scenario, the leasing company will handle everything from the financing to the maintenance to the actual disposal of the trailer at the end of the lease term. Should a company elect to go this route, it needs to be certain that the leasing company is qualified to perform the maintenance required.
"It's important that you partner that lease with a best-in-class maintenance service. And one of the benefits to Ryder's maintenance service is that it's basically piggybacked on a full service lease offering, all maintenance included-you get the road service and tires all inclusive," says Ryder's Mallozo.
"We do an integrated reefer lease, which is the lease on the trailer as well as the maintenance program on the refrigerated unit in the box," adds GE's Nelson. Over the term of lease, the customer really doesn't have to worry about the operation of that device." He says this allows a food company to concentrate on its area of expertise-manufacturing and distributing food.
However, a company need not elect for a full service lease. The option remains for it to unbundle any part of the lease that it wishes. It may elect to find its own financing entity, whether it be its own bank or another third-party financing company. It may even elect to unbundled the maintenance part of the lease.
"We have customers that have full maintenance facilities and they're very comfortable performing their own maintenance, says PLM's Adams.
In this scenario, a company has to provide the entire maintenance for the lifecycle of the lease. It does all the tire work, all of the refrigeration repair-everything concerning the trailer. However, this practice presents a number of difficulties.
"It's become harder to hire and train mechanics," notes Adams. "You're going to have to find your own maintenance staff and that's difficult in today's environment."
He says that his company's studies have shown that, while a full service lease does cost more on a monthly basis, over the lifetime of a five-year lease customers will spend more maintaining equipment on their own then they will in a full service situation.
Customers who elect to provide their own maintenance must be aware that they will most likely have some residual risk at the end of a lease term, if the leased asset has not been maintained up to OEM standards.
"If they're leasing it through a Ryder full service lease, they have no exposure because we hold the residual responsibility, however, if they elect to finance lease it with a residual responsibility, say a 20 percent TRAC (Terminal Rental Adjustment Clause lease), they're responsible for 20 percent of the value of that trailer at the end of the lease term," Mallozo says.
A finance lease, he explains, is an alternative transportation offering designed to provide customized vehicle financing to meet a company's specific tax, residual risk and balance sheet requirements. In this scenario, the lessee is responsible for the residual value (TRAC) at term. Often, companies will use a high residual value to get a lower monthly cost, but will pay a balloon payment at term to make up for the high TRAC amount. This can be very costly on a large fleet. Ryder is able to assist the customer, using its extensive vehicle resale history, by recommending a fair and reasonable TRAC amount.
The length of lease terms can vary, anywhere from five-to-10 years, depending on customer requirements. The experts suggest that companies using trailers for high mileage applications seek out shorter terms.
"If you're running that refrigeration unit 4,000 or 5,000 hours a year, it's not going to last 10 years," says Mallozo.
GE Trailer Fleet Services offer customers a Customer Value Analysis (CVA) tool, which is a calculator that allows them to input key financial and fleet information from their operations. The tool will show the impact of the various financing and ownership options (i.e. own vs. lease, vs. sale-leaseback, vs. sale-rentback etc.) This helps them make informed leasing decisions.
Value-Added Services
In addition to the equipment and the lease, companies should look for leasing entities that are willing to provide value-added services to its customers.
"We like to do ride alongs with their drivers to look at their delivery aspects and see if we can offer any suggestions that would make their deliveries easier," says PLM's Adams. "Or when it comes to spec'ing the correct kind of trailer, would a different type of ramp or lift gate make the driver's life easier?"
"We offer 24/7 emergency road service," notes Xtra Lease's Frank. "It's staffed by people 24 hours a day. They take calls from anyone having trouble and find the closest vendor that can get out to help them."
"We have a product called VeriWise," says GE's Nelson. "Our product allows the customer to officially keep track of where their trailers are. On refrigerate trailers, it allows them to monitor the condition of that unit. Should the unit deviate from the current set-point, it will provide an alert."
Beyond this, companies really need to look at the expertise of the leasing entity. Potential lessors need to search out companies that can leverage their size and purchasing power in order to provide better pricing on equipment. The experts stress it is important to partner with entities that have qualified technicians, especially refrigeration technicians. They should also have a service infrastructure that allows them to handle any over the road crisis, 24/7.
"Visit the company's locations or interact with other customers to get their experiences," says PLM's Adams. "Get a good comfort level for them. It's a fairly long-term working relationship that you'll be entering into."