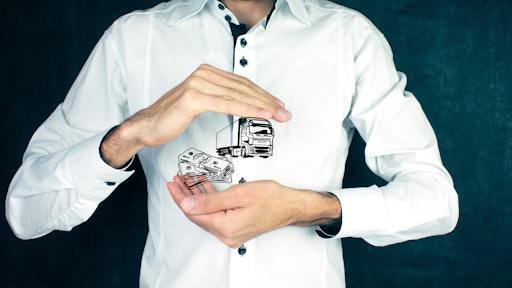 The food distribution industry is facing an interesting dilemma as we near the end of the year. Many companies with private transportation fleets and dedicated carriers are now looking to replace older trucks with newer, more efficient units. Several factors are reaching a boiling point, causing longer wait times for original equipment manufacturers (OEMs) to complete orders for new trucks and move them into service. 
Freight volumes are near all-time high levels as the economy churns continued inventory replacement for retailers, online shopping deliveries and grocers. According to the Federal Reserve in a report in The Wall Street Journal, industrial production had the largest year-over-year gain since 2010 in December 2017, meaning there's more demand to ship goods across the country.
According to the latest truck orders data, preliminary North American Class-8 orders for August—typically a weak order month—topped the historic records set in July. FTR Transportation Intelligence reported that 52,400 units were ordered in August, meanwhile, ACT Research reported Class-8 orders at 53,100. As a result, orders for trucks are now up 153 percent year-over-year. Additionally, six of the top 12 order months on record occurred in the first eight months of 2018.
The Tipping Point
Along with a healthy economy, recent changes to the corporate tax rate have incentivized firms further to replace equipment.
This causes an interesting challenge for distribution companies with private fleets as they determine their acquisition strategies for the remainder of the year. Typically, industry firms will make purchase orders of trucks en masse and drive them for 10 years or longer in order to save money. However, firms of all sizes are beginning to realize that this acquisition strategy is not as cost-effective compared to operating trucks at a shorter life cycle. Companies can achieve more savings on maintenance and repair (M&R) by moving to a shorter life cycle—the highest variable and volatile cost of a fleet operation.
Organizations are now paying closer attention to a truck's individual tipping point, the point at which it costs more to operate a truck than it does to replace it with a newer model. Factors such as the cost of fuel, utilization, finance costs and M&R are all factored into arriving at each truck's unique tipping point, giving fleet operations' personnel and finance departments a closer look based on data and analytics into determining the optimum time to replace an aging truck.
A recent analysis of long-term ownership versus shorter life cycle management illustrates a significant cost saving over time. A fleet that opted for a four-year lease model would save approximately $27,893 per truck in comparison to a seven-year ownership model. The shorter lease model is also cost-effective when compared to just a four-year ownership model, showing average savings of $12,710.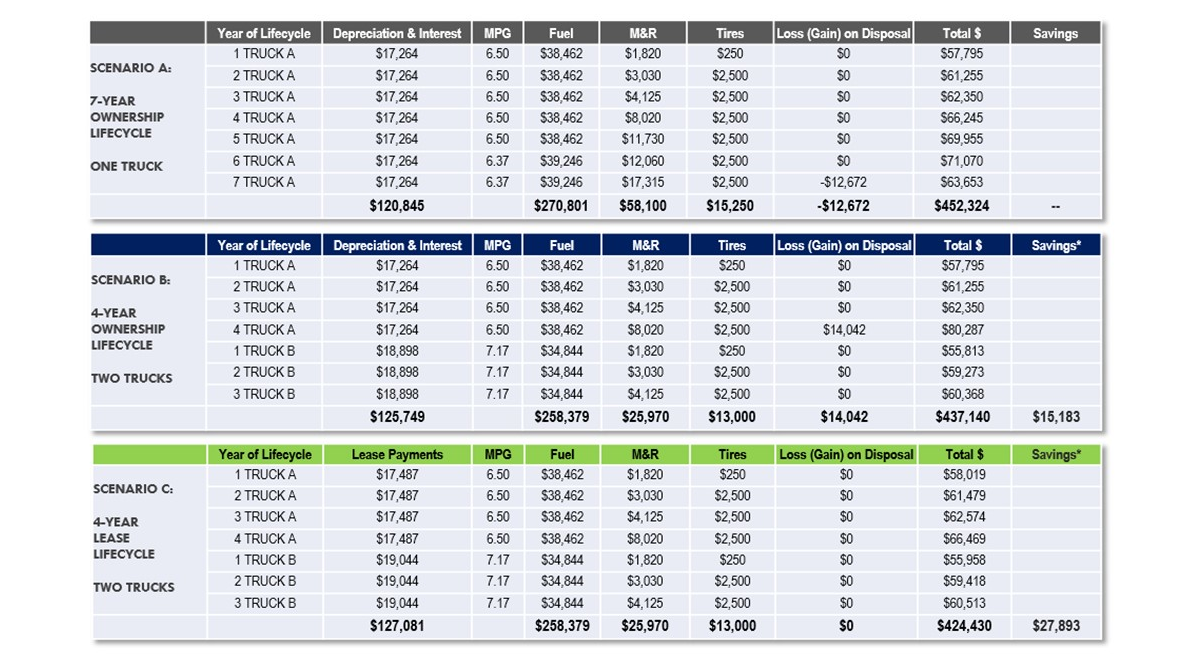 When fleets and for-hire carriers adopt shorter truck life cycles based on flexible leasing, greater cost efficiencies are realized to the bottom line over time.Fleet Advantage

Flexible Lease Program
While the decision on the upfront acquisition method could save millions on an entire fleet, shifting ongoing life cycle management to a more flexible lease program would help those savings grow further, particularly as fleets grapple with disposal costs of older trucks. Innovative and flexible lease solutions allow organizations to replace equipment prior to lease expiration without penalty.
This approach offers flexibility to adapt to changing markets, ultimately driving down operational costs while strengthening the corporate image and driver recruitment and retention efforts by continuously upgrading to newer trucks. Food distribution companies are leveraging data analytics and comprehensive fleet studies to determine when aging equipment will need to be replaced. This is especially effective with today's fluctuating demand and the current booming economy as companies trying to acquire equipment solely based on demand are faced with equipment shortages and long lead times.
Just as important, recent changes to the corporate tax rate, as well as new accounting standards, have made it more attractive to lease equipment. With these changes, purchasing equipment is costlier compared with shorter-term leasing. Leasing also remains the preferred method for companies regardless of a stronger or weaker balance sheet.
Residual Value Considerations
In addition, leasing allows companies to avoid the risk of residual value and the expense of selling their used equipment. Very few companies with private fleets, for example, have any infrastructure to deal with the distribution or sale of used truck equipment. In the distribution industry, operating trucks to their functional obsolescence is 10 years. After 10 years, all they're worth is salvage value—making disposal easy. If you want to take advantage of newer technology, improve efficiency, capture lower costs and improve your financial metrics, then it's better to have someone else take on the residual risk and the responsibility of disposing of the equipment.
All of these decisions play a critical role in why today's truck shortage is a growing issue. The legacy mind-set of ordering trucks sporadically produces a bottleneck at the manufacture level, delaying the overall fulfillment process. However, as food distribution companies, fleets and carriers continue to analyze data analytics that pinpoint the optimum time for replacement of each individual truck, orders can be predicted over time, and delivery of trucks can take on a more efficient process. Ultimately, this data helps transportation organizations determine whether short-term leasing or ownership makes more financial sense for their bottom line.