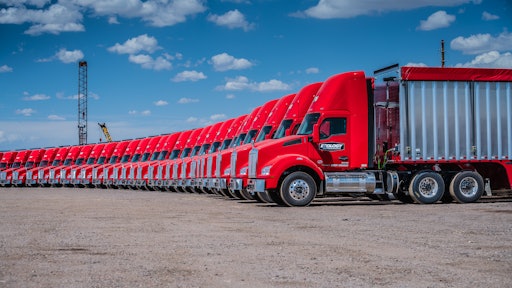 The decision to buy or lease vehicles is one of the most importance choices a fleet owner makes, given the amount of capital involved. For most fleet operators, the choice isn't an either/or type of decision. Each option has benefits. Hence, many fleets mix both options as tools to maximize their use of capital.
Several factors have to be considered. The type of operation, vehicle configurations, organizational or managerial preferences, routes, work seasonality and financial considerations all come into play.
Vehicle ownership often makes sense for companies relying on ownership as part of an overall equipment acquisition strategy. Carriers with their own repair shops sometimes choose to purchase their equipment so they can maintain it themselves and keep it longer. Costs include maintenance, staffing, repairs and replacement expenses to keep the vehicles running. Technology changes, and the need to have skilled staff requires additional investment.
Benefits of Leasing
Leasing allows companies to obtain equipment without incurring the costs and credit constraints of ownership. An operating lease allows the company to expense the cost of the vehicle monthly rather than carry the liability on their balance sheets. This provides credit flexibility, allowing the company to invest capital elsewhere.
Many leasing companies use a "lease versus own" analysis that determines the best financial decision for a customer. The best financial decision does not, however, include the service capabilities that the customer has to weigh against what a leasing company can offer. "Most of our customers have a mixed bag where they lease some equipment…they might own some equipment," says Jim Lager, senior vice president of sales at Penske Truck Leasing.
Many growers, processors and food manufacturers prefer to focus on producing high quality, safe, healthy foods for their customers as opposed to investing in maintenance shops, automotive parts and technicians. At the same time, these companies want to take responsibility for delivering their product to the customer to ensure on-time delivery. Such companies believe it is important to operate their own fleet without having the overhead of a repair garage, parts inventory, the technicians and 24/7 roadside assistance.
Santa Monica Seafood leases medium-duty Peterbilt Model 325s and Kenworth T270s with 16-foot bodies to handle loads with six pallets, along with Peterbilt 337s with 18-foot bodies which can handle up to eight pallets. Vince Cigliano, director of special projects, says the decision to lease was based on fleet reliability and convenience. "We could purchase our own equipment, but we're not in the trucking business, we're in the seafood business," he says.
Full-service leases allow for upgrading and a shorter term lease. Leasing equipment and cycling the equipment out every three to five years provides fleet operators access to newer, more reliable equipment to try to mitigate late deliveries and breakdowns.
With full-service leases, fleets can take advantage of 24/7 breakdown service, complete preventative maintenance programs, and substitute vehicles for trucks that may break down on the road. The substitute vehicles then allow them to still make our deliveries to their customers.
Fleet operators also find they can partner with leasing companies to the mutual advantage of both parties.
For example, leasing companies can identify high mileage trucks and shorten the term of the lease so the lessor can still get their residual out of the truck, then replace it within the fleet with a newer truck for another three to five years.
Some fleet operators have noticed that leasing companies have grown and added more facilities, creating competition amongst each other. As a result, some leasing companies have become more flexible. Some have also become more proactive with instruction on safe driving.
The Technology Factor
Mike Spence, senior vice president of fleet services at Fleet Advantage, a lease finance company, thinks fleets can shorten the traditional six-to-10-year leases to a four-to-six-year lease. A key benefit is to allow customers to take advantage of new technology faster.
Equipment manufacturers have made great improvements in fuel-saving components, Spence says. The legislated reduction in particulate matter and other emissions in engines has improved fuel economy, making new vehicles more fuel efficient.
In order to measure improved fuel mileage, you have to have data, which today's engine computers gather, Spence says.
"Since 2010, there has been a 2.5 to 3 percent compound improvement in fuel economy as you move from model year to model year," Spence says. Fleet Advantage collects the data to let a customer know their total cost of ownership.
"Electronics are able to manage engine operation in fuel delivery much more specifically than a mechanically built fuel system can ever do," he says. It not only improves the physical operation of the vehicle, but it allows the driver to be further removed from the correct operating principles of the truck.
"While the driver is still important, the engine takes on the speed limiting, the idle time, the cruise time," he says. "That can all be done much more efficiently through the use of electronics."
Aerodynamics and rolling resistance have also delivered new fuel efficiencies.
Key Factor: Total Cost of Ownership
Spence notes that fleet operators need to pay attention to total cost of operating, not just the financial costs of owning versus leasing.
Depreciating a truck over eight years, the monthly finance cost for a purchased vehicle will be less than that of a leased vehicle, Spence notes. But the total cost of ownership with the eight-year-old truck includes fuel and maintenance costs. "The dynamics of that are pretty significant," he says.
Shorter leases are beneficial to fleets since the newer the vehicle, the less the maintenance costs.
A new truck will save $2,500 per year in fuel at $2.20 per gallon over a six-year-old vehicle due to the difference in fuel mileage, Spence says. The higher cost of the new vehicle amounts to $5,200, translating into a $1,200 annual increase in payments. "You more than double the benefit by moving to a newer vehicle even though the finance cost may have a higher payment based on the age of the equipment," he says.
In addition, the first-year savings on maintenance on a new truck over a six-year-old truck can be $7,600 per year, he says.
The Procurement Factor
Some of these savings can be achieved through ownership, Spence says, but it requires having a procurement process for new vehicles and a remarketing program for used ones. Small fleets typically don't have the purchasing power to have a good procurement and remarketing processes.
Greenhouse gas reduction targets will deliver even more fuel-efficient vehicles in the future, Spence says. "That's going to run from 2018 to 2027."
Regulatory Issues
Leasing companies that cater to the food industry, such as Penske Truck Leasing, can provide customers assistance in understanding food safety rules, notes Lager. The company stays abreast of how equipment meets regulations.
One Penske customer purchased trailers with reefers that were not compliant with California food safety regulations. "It was compliant today, but it was not going to be compliant a few years down the road," Lager says. "We kept the trailers and replaced the reefers, rolling up those added costs into the new lease." Similar changes will come on account of greenhouse gas regulations.
Leasing companies can also provide customizable software tools to manage fleet operations. Penske Truck Leasing offers customers a "MyFleet" portal. "Paramount for food is on-time delivery and keeping trucks on the road and making deliveries," Lager notes.
Penske Truck Leasing fields a number of customer questions related to documentation. This includes areas like door sensors and how the information is relayed electronically to the unit. Customers want to know things like how the reefer unit sends data to the onboard computer.
"A lot of our customers have very specific key performance indicators (KPIs) they measure themselves to or their customers hold them to," Lager says. "We actually can customize your reports for what's important to a certain customer. We customize reports to help them measure success against that. It's not enough to just have the data; you have to be able to do something with it, and that's where a partnership with Penske drives real value for our customers."
Increasingly, companies are looking for flexibility in how they manage and operate their fleets, says Kirk Morton, director of financial consulting for Ryder System Inc. "They want flexibility in how they manage and operate their fleet," he says. "They might not want the offering of a full-service lease package, but they may want a flexible option that enables them to experience some of the key benefits of leasing." A customer might have their own maintenance expertise but want Ryder's preventive maintenance expertise and road service expertise. Or, they might prefer a pay-as-you-go option like on-demand maintenance.
"We've heard the marketplace on wanting more flexibility and not being restricted to only one service offering," he says, pointing to the company's "ChoiceLease" and "SelectCare" offerings.
Ryder also offers an onboard monitoring system called "RydeSmart" which is available to ChoiceLease customers and provides vehicle monitoring and electronic logging. For many fleets, managing an onboard monitoring system may not be a core competency.
"That industry (the food industry) places a high value on the importance of transportation in the success of its business proposition," says Morton. On-time delivery, reliability and access to additional equipment during spike periods are important considerations.
Ryder System Inc. conducts an analysis that considers the financing costs, operating costs, government compliance costs and the eventual disposal of the asset as the total cost of ownership. The total cost is then weighed against the leasing option, says Morton.
Lease Options Vary
Customers are also looking for flexibility and options around financing. As opposed to a full-service lease – in which the leasing company assumes the full value of the residual – a Ryder FlexTrac (terminal rental adjustment clause) lease entails that the customer participate in the residual value of the asset. "In a FlexTrac lease, a customer is provided with greater flexibility by participating in the gain or loss of the sale of the asset," Morton says.
For foodservice distributors, many customers have specified time windows for delivery, so on-time delivery performance is critical. This being the case, approximately a third of these distributors choose full-service leasing, says Todd Berger, director of national accounts at Paccar Leasing, the leasing arm of Paccar, which provides the design, manufacture and customer support of light-, medium- and heavy-duty trucks under the Kenworth, Peterbilt and DAF nameplates.
"Full-service leasing provides private fleet operators the assurance that their trucks are not only operating at peak levels, but spec'd properly and serviced at proper intervals throughout the term of the agreement," says Berger.
Companies in this article