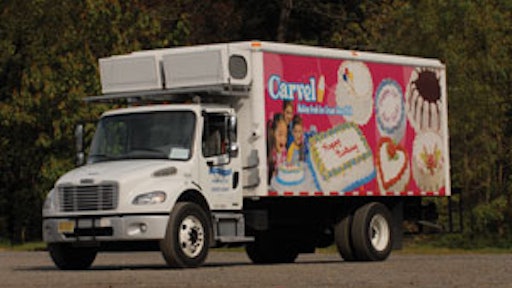 For the past 70-plus years, Carvel, the nation's first retail ice cream franchise, has been making ice cream and ice cream cakes fresh daily. Today Carvel offers its treats in more than 500 Carvel stores and over 8,500 supermarkets nationwide.
Celebration Foods in Rocky Hill, CT manufactures Carvel's complete line of ice cream cakes. Carvel's geographic presence has expanded from 25 states in 2002 to nearly all 50 states today. So distributing the product to the retail market was initially a challenge.
The company worked with two different transportation providers to deliver its perishable products and experienced some serious problems along the way. Drivers would often call in sick and replacement personnel were unavailable. And equipment malfunctions and refrigerated trailers not operating at the proper temperatures were making the entire distribution process a nightmare.
"We had an instance just prior to switching transportation companies where a provider's trailer caught on fire and burned to the ground. The trailer and all our products were a complete loss," says Victor Perry, director of logistics at Celebration Foods/Carvel Ice Cream.
Tired of mediocre service, Carvel awarded its transportation contract to AmeriQuest Transportation and Logistics Resources, Cherry Hill, NJ. The company paired Carvel with AmeriQuest member All Services Leasing (ASL) in Williamstown, NJ, to provide dedicated transportation services, including drivers, and tractors and trailers for distribution.
ASL created the first logistical design for the transportation system that Carvel would adopt to deliver frozen cakes between the Carvel plant and its distribution network.
Carvel utilizes up to eight dedicated drivers, tractors and trailers on a weekly basis. The ASL delivery routes are multi-stop, and sometimes multi-state.
To prevent problems and unmet expectations, there is constant solution-centered teamwork and communication among the Carvel RSRs, ASL's dedicated drivers, the transportation and maintenance team, and often the Carvel cake creation center and corporate office.
Carvel's footprint has expanded considerably over the last four years, and a majority of that business is brought to market by ASL and NationaLease. No longer a two coast regional business, their products are sold nationally in 46 of the 48 contiguous states.
NationaLease has helped to improve Carvel's bottom line by maximizing the utilization of its dedicated drivers to drive down cost and realize a lower delivered cost per unit. Carvel estimates that in the past three years, the ASL and NationaLease transportation delivery program has reduced their cost-per-unit by 10 to 15 percent.