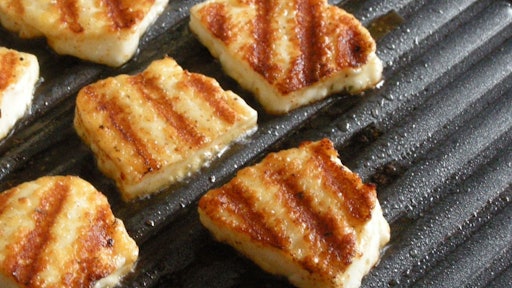 Halloumi cheese is flying off the shelves lately, with global shipments rising 14 percent in 2017. According to Bloomberg, the cheese is doubling its sales of 77.5 million just four years ago.
The UK was the largest importer of halloumi, taking in about 43 percent of the shipments from Cyprus. Restaurants chains like Nando's have been incorporating the cheese into some of its main dishes, increasing the popularity of the product. Meanwhile, more and more grocery stores are also adding the cheese to its shelves.
According to Bloomberg, Halloumi has a high melting point which makes it ideal for grilling, causing celebrity chefs like Jamie Oliver and Gordon Ramsay to be fans.
While the cheese is gaining popularity, people don't agree on the process on making halloumi. Bloomberg reports that the cheese is hystorically made with both sheep and goat's milk, though recently cow's milk has been thrown into the mix.
Cyprus has taken out trademarks around the world, but a July 2014 application to the European Commission for Protected Designation of Origin Status hasn't yet been granted. If accepted, Halloumi could only be produced in particular geographic locations, like Parmigiano Reggiano and roguefort.
However, Bloomberg reports that won't stop producers from making the cheese. Some cheesemakers are renaming the cheese and changing up the recipe.