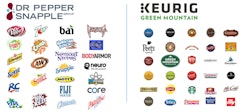 Dr. Pepper Snapple Group and Keurig Green Mountain will combine under the new name of Keurig Dr. Pepper. The company would have an estimated $11 billion in 2017 revenues.
Shares of Dr. Pepper Snapple upped 32 percent to $126. Before the announcement, the stock was up 5.5 percent from this time last year. The companies have worked together in the past, however. In 2015, Keurig signed a multi-year deal to sell pods of Dr. Pepper soda brands for their Keurig Cold System.
The combined companies will have the capability of reaching every point of sale in North America.
To read the full original article, please click here.